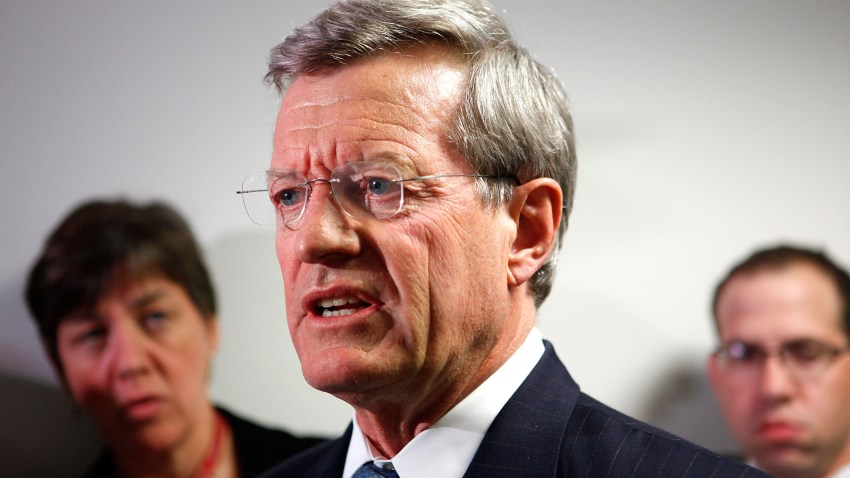 For liberal Democrats unhappy with the way Max Baucus is handling health care reform, here's another dose of bad news: He's got his hands on climate and energy, too.

Behind closed doors, Sen. Baucus has been staking his claim on major aspects of the climate bill, including financing for a cap-and-trade system.

His power play could put Baucus at the helm of the Obama administration's domestic agenda, giving an unpredictable Montana Democrat control over legislative proposals that could define the Democratic Party for years to come.

"He's swung from liberal to conservative," said Montana pollster Craig Wilson, noting Baucus's support of the 2001 Bush tax cuts and the 2003 Medicare prescription drug bill. "He's been a bit of an unpredictable vote for the Democrats."

Yet Baucus remains a signpost for moderates and could draw more conservative members of his party to support the Obama administration's key initiatives.

"The old saying used to be 'as Maine goes, so goes the nation,'" says Frank O'Donnell, head of Clean Air Watch, an environmental advocacy group. "On climate, it's 'as Baucus goes, so goes the Senate.'"

But liberals have complained that Baucus's obsession with getting Republican support for the health care bill has slowed progress on the issue, and they worry the same thing will happen on climate change.

In public, Baucus has kept a laserlike focus on the health care negotiations — honoring the administration's wishes to put cap and trade on the back burner until Congress completes its work on health care.

"We've got health care. It's going to take up most of the month. It's going to be difficult to also do [climate]," he told reporters this week.

But while Baucus has been the public face of health care negotiations, a dedicated team of his aides has been working on the climate bill. As the Finance Committee chairman and the second-most-senior Democrat on the Environment and Public Works Committee, Baucus is in a uniquely powerful position on climate issues.

The Finance Committee is charged with overseeing the flow of money in and out of government, a jurisdiction that Baucus believes gives his committee control over how hundreds of billions of dollars in pollution allocations would be distributed to industry and consumers under a cap-and-trade system.

That turf puts Baucus in direct conflict with Sen. Barbara Boxer, chairwoman of the Environment and Public Works Committee, who believes her committee has control over cap-and-trade allocations. Boxer would fold the provisions into her broader climate and energy bill, which would establish caps on greenhouse gas emissions for the next several decades, according to Senate Democratic aides.

Massachusetts Democratic Sen. John Kerry, who's working with Boxer to draft the climate and energy bill, says they are still working out the jurisdictional dispute with Baucus.
And Boxer said that she welcomes input from all six committees with jurisdiction over the complex bill.

"The committees are all going to do what they perceive is in their jurisdiction," she said. "There may well be overlap — just like in the health bill."

It would be up to Senate Majority Leader Harry Reid to iron out any differences and craft all the committees' provisions into one omnibus bill. But Boxer and Baucus bring dramatically different approaches to the climate issue, so combining their ideas won't be easy.

Boxer, a decades-long champion of environmental causes, is trusted by many advocates who fear the legislation will be weakened in the Senate.

Baucus, by contrast, has been a much less reliable vote on environmental issues. The League of Conservation Voters gave him a lifetime ranking of 67 percent, even though Baucus supported the cap-and-trade bill sponsored last year by Connecticut independent Sen. Joe Lieberman and former Virginia Republican Sen. John Warner.

The issue could also be a difficult one for Baucus back home. Montana gets 65 percent of its electricity from coal-fired power plants and is also home to several oil refineries.

But Montana's energy mix, some argue, could help Baucus persuade moderate Democrats to support the legislation. Coal- and manufacturing-state Democrats may trust a version of the bill drafted by Baucus instead of Boxer.

And the Finance Committee, stacked with moderate Democrats, may be a better place for dealing with a climate bill as Democrats try to find the 60 votes needed to overcome a Republican filibuster.

"His committee is much more representative of the views of the Senate as a whole," said Dan Weiss, director of climate strategy at the liberal Center for American Progress. "Plus, to put together 60 votes, you're going to need the votes of moderates like Baucus, so having him in on part of the ground floor is a plus."

Baucus's work on health care could also have a significant impact on the climate bill. If Baucus can broker a bipartisan health care bill out of his committee, it would lay the groundwork for a similar compromise on climate. And if he can't, it could kill the Senate's momentum to tackle another controversial issue.

"Everything's related to everything here in Congress," said Sen. Jeff Bingaman (D-N.M.), chairman of the Energy and Natural Resources Committee. "People work together on one set of issues, [then] they feel more comfortable on another set."
Copyright POLIT - Politico