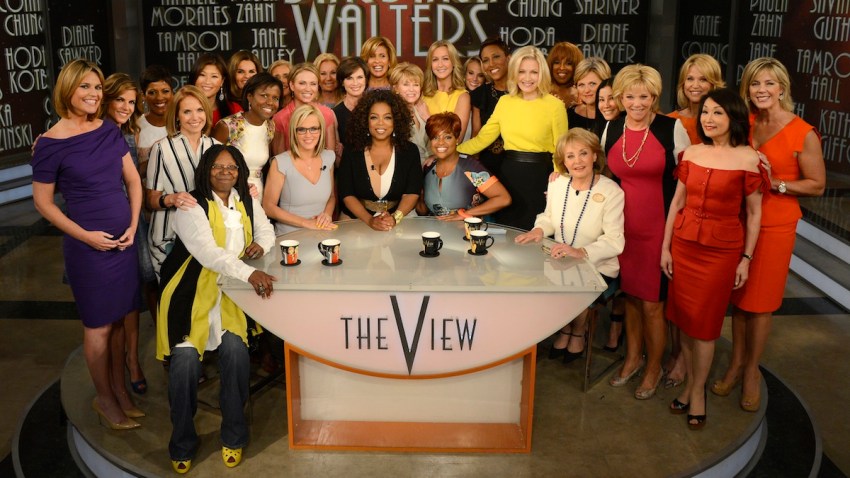 Barbara Walters took in her final "View" as a permanent co-host Friday, but refused to say "Goodbye."
Instead, for her sign-off, the pioneering broadcast journalist simply thanked those gathered around her in the studio and audiences at home, then said "See you later."
The episode marked Walters' last appearance in front of the cameras for "The View," the talk show she created 17 years ago. After more than five decades on television, Walters, 84, will remain behind the scenes of the ABC daytime show as executive producer, while limiting her on-air appearances for the network to occasional interviews and stories.
Taped Thursday in front of an audience of her colleagues and fans, the farewell celebration featured surprise guest appearances from Oprah Winfrey, former Secretary of State Hillary Rodham Clinton and Walters' longtime friend, actor Michael Douglas.
"I can't believe this day has come, and I can't believe it's for real," Clinton said. Ever the news journalist, Walters asked the question most Americans want the answer to: Is Clinton planning to run for President in 2016?
"I am running," replied Clinton, smiling. "Around the park."
Douglas brought up the topic again later in the episode, suggesting that if in fact Clinton did run, Walters would make a great vice president. Walters said she believes the country may be ready for a woman president, but not vice president as well.
Walters began her television career on NBC's "Today" in 1962 before heading to ABC in 1976 where she became the first woman to co-anchor a national newscast, and hosted "20/20" for 20 years along with numerous news and entertainment specials as well as "The View."
"You're the reason I wanted to be in television," Winfrey told Walters.
"You shattered the glass ceiling for so many women," she added before assembling a group of prominent on-air female anchors, hosts and journalists, including Joan Lunden, Jane Pauley, Robin Roberts, Diane Sawyer, Katie Couric, Lisa Ling, Gayle King, Natalie Morales, Tamron Hall, Hoda Kotb, Kathie Lee Gifford, Connie Chung, Savannah Guthrie and Meredith Vieira.
"You are my legacy," a visibly moved Walters told the group.
A lighter note during the episode came when Walters, in a pre-taped segment, interviewed herself by way of former "Saturday Night Live" player Cheri Oteri, who once again donned blazer, pearls and wig for her spot-on imitation of the broadcast great.
When Walters asked herself what she plans to do post-"View," Oteri-as-Walters revealed she hoped to try things she previously had no time for, ordinary things, like "get a Costco card."