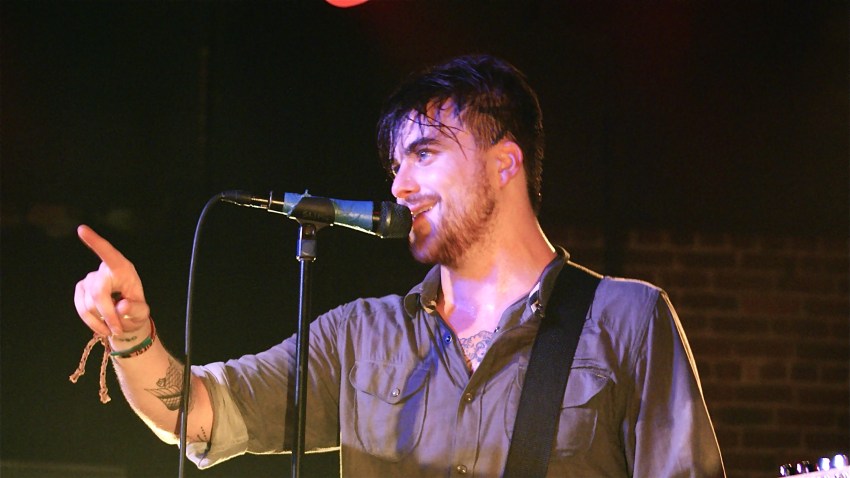 With his solo work, his band, and side projects overlapping in more ways than one, it's become difficult for fans to define Anthony Green as just the front man of the indie hard rock band Circa Survive.

For fans, it's a package deal.
Green sat down last week with NBC before playing a solo sold out show at Chicago's Bottom Lounge to talk about Circa Survive's new album, his growing family and returning to the Bay Area.
You can see images below from Green's performances at Slim's in SF and Chicago's Bottom Lounge.

The singer's audience are as equally enthused when hearing and seeing the father (who just welcomed his second son into the world before heading to the Windy City) or when touring whether with Circa Survive, solo, or singing on side projects.

With the release of his latest solo album, "Beautiful Things," the former California-resident has his audience raving about the sincerity in his lyrical content, the experimentation with the musical style and the vocal collaboration with featured artists, such as Ida Maria, Chino Moreno, and Nate Ruess.

Green's artistic development and growth is in full fruition with his latest solo project and it has critics and fans who are coming out of his shows thrilled.

And fans will be even more excited. Circa Survive announced that they will release their fourth album titled "Violent Waves" on August 28th, which is aniticipated to be the best album of their career.

Green said the band chose to go without a major record label to control the sound of its latest offering, after releasing "Blue Sky Noise" on Atlantic Records.

"I don't see us ever really doing any massive commercial thing," he said. "I don't see that ever happening. It's not something we started the band to do. It's not something we all desire. I would love to constantly grow - I just want to be really happy with what I'm doing. And I was really happy when I was playing to people in a room this size, you know, but I didn't have bills to pay and I didn't have anybody I had to support. So being able to take care of those people, and play rooms like this and constantly evolve, I just want to keep doing that."
It's that drive and the closeness of the band that makes everything work for Green.
"I think it has to do with the connection we have," Green said. "I think it has to do with the way we govern the band and I'll never let that band break up, ever. I would never let anybody leave."
(Laughs).

"I would never let anyone break up. It's just too perfect a situation and I think it's because the five of us, we just, everybody meshes really well. It's something I never want to change. We've been able to experiment for such a long time. No matter what ever happens with that band, I just, I don't know, it's weird, I never (thought) that I'd last this long with anything in my life."

Despite the success of Circa Survive, it didn't take long for the former Saosin front man to take ideas that weren't used or appropriate for Circa Survive and generate music for his solo projects.

He said the ideas may not have been right for Circa Survive, but they were still good songs that represented him.

Green began experimenting with his friends in Good Old War, who support him on his solo tour.

In 2008, he released his first solo album "Avalon," which made its way to No. 44 on the Billboard 200.

Green then released his second solo album "Beautiful Things" in January. The album touches on a number of life changing events, such as marriage, his recent entry into parenthood, and growing up -- but not necessarily growing old.

The Pennsylvania native has been a source of inspiration for many of his fans from the beginning, but even more so with some who have seen his life and musical changes take place right before their eyes. And that power is not lost on the 30-year-old.

Musical growth can, at times, be attributed to changing inspirations. As Green's musical career progresses, he explains it's not necessarily his inspirations that have changed, but his relationships.

"It's really weird," Green said. "Most of the things I've been inspired by, they haven't changed. It's always relationships. Whether it's a relationship with myself, like my dark self and my light self. Or my mother and father. My brothers. My wife. My children. My band members. A lot of the songs that I ended up writing, you know, are just about people in the band."

Still his audience recognizes Green's contagiously positive demeanor and attitude, and its evident in their reaction to Green's live shows.

"That is incredible. But that (fan's) feeling is a self-empowerment. People get confused because the nature of our society and how people have been viewed for so many years - musicians, athletes, whatever…there's nothing about me in there, it's all about him," Green said when talking about a particular Facebook comment left on his page about how inspiring his music has been for fans. "He is inspired by the music, because the music is inspired by just trying to relate to my own feelings. That's what everyone is trying to do. I'm not doing some special thing."

Despite the band's intense schedule, and Green's incessant music production, both the group and Green maintain an intimate connection with their audience.

For instance, just earlier this month they played a free show at the King of Prussia Mall, an unconventional venue, for their fans.

The Anthony Green solo act is quite intimate, too. Green demonstrates this by being engaged with the audience and getting the whole room to sing along or by his frequent expression of appreciation to fans, both on stage and online.

His gratitude for where he is in life is evident not only in his music but whenever the artist opens his mouth in an interview.

And at another recent show in San Francisco, Green took a break from an encore performance to recognize a 2-year-old who had fallen asleep in the crowd. He then proceeded to tell the crowd the show was over because he didn't want to wake the girl up.

After some jeers, he instead encouraged the crowd to try and wake up her up on the count of three. The little girl didn't flinch and Green proceeded by rocking out with some of his loudest songs of the evening.

Its that intimacy that drives social media pages to heap endless fan posts about the inspiration, drive and the empowerment they receive from Green's music.

"I never got into this to inspire anybody else," he said. "I'm part of the system, just like (a fan), a person whose heard music and had it change the way they thought about painful, or even good things in their life. It's just been a positive thing the whole time. And just all I ever wanted to do is make music."

"Music-making and playing is simply what Anthony Green and Circa Survive want to do."

"The bond with fans, being able to perform live for a living and making music a lifestyle has been -- and anything else that may come out of it -- will just be the icing on the cake."

Green, as well as Circa Survive, never envisioned fame and fortune when they launched the band in 2004.

But Green says he is happy with where he is at with his music and his band. There are no voids to fill and he said he doesn't feel the need to grow into something more mainstream.

"Early in Circa Survive I always wanted it to (just) be," he said. "It's just songs (that) were inspired by dealing with trying to be creative with them after I left a situation like Saosin where I would just write these vocals and boom - they were cool and everybody dug it. And then having to deal with people who were like, "it's a creative collaboration", which I think makes it really special and better. But it also challenged my ability to be able to accept the fact that I wasn't going to knock it out of the park all the time, and had to break my ego down a little bit."

Green has somehow been able to successfully break down his ego just enough to see the steady rise of Circa Survive over the past eight years.

However, with no sign of slowing down after releasing and touring for "Blue Sky Noise," Circa Survive is preparing a fall tour to support its fourth studio album, "Violent Waves."

Putting even more work into their album, Circa Survive has decided to put their blood, sweat, and tears into self-producing it and financing it themselves.

"Now I'm lucky enough to have all these people, all the time, that are just able to come to the show and it doesn't matter if you buy the album because I get to go out and do this," he said. "This is really awesome. It supports my family. It supports this desire I have to connect with the music like that. It's just so awesome to me. I'm grateful. Even though it's not about me, I'm grateful."

Despite producing the band's forthcoming album on its own terms, Green says Circa Survive has not completely escaped music industry pressure to alter its sound to appeal to a larger audience.

"(Circa Survive) submitted music for commercials and for movies," he said "I remember having a manager tell us once, 'Hey...your voice is weird...[it] distracts from what they're trying to do.'"

Green said the band once was told by a Hollywood type that "we want something more like Radiohead-ish, like Jeff Buckley" after submitting a song to be considered for a movie.

"I was like 'F*ck! I want that, too," Green said laughing. "Like I want to sound like Radiohead and Jeff Buckley, but I just sound like me. I'm not gonna like try and do that…I wouldn't know how to do that."

Changing sound or style, however, is not something Green or Circa Survive are willing to do.

After a momentary pause, Green expresses himself, "I feel like really lucky to be able to do it. I never, ever thought I'd be able to get to this point. This is a big thing to me. I had someone outside come up to me and say 'Yea, you're gonna make it,' and I was like 'I don't think so. (Laughs) and I don't really care.'"

"I think I've made what I wanted to make. Like I can come and do this and have all these people come and have fun with it…they bring so much joy to my life. I wouldn't want to mess with that."

Green's musical evolution follows a history of coming to terms with what is right for him as an artist and for his band as a whole, and not getting caught in the music industry's disillusions.
His growth and change as an artist are significant, coming from bands such as Zolof and the Rock and Roll Destroyer and Saosin, The Sound of Animals Fighting, Circa Survive and his solo acoustic sound.

Green interchangeably talks about how some may appreciate the changes in his style or the experimental music of Circa Survive, while others may not.

"I've always hated sharing music with certain types of people. When music gets hugely commercial, there's always a part of it where it dies to you… like you don't want it to be a commercial. And part of making music and making money right now is having music that makes commercials."

Green said in the end happiness is the key to ensuring that Circa Survive is able to last over the long haul.

"I've always wanted to make music I was happy with," he said. "That's why I left the first band I was in. I wasn't ready to commit to a big label like that…we were doing the radio thing, all this stuff was happening. I just wasn't ready for that."

Green and Circa Survive will be back in the Bay Area playing the Regency Ballroom on Oct. 11. For tickets and more information on the band, visit circasurvive.com.

The "Beautiful Things" tour wraps up June 30th in New Jersey. Check out anthonygreenschildren.com for more details.