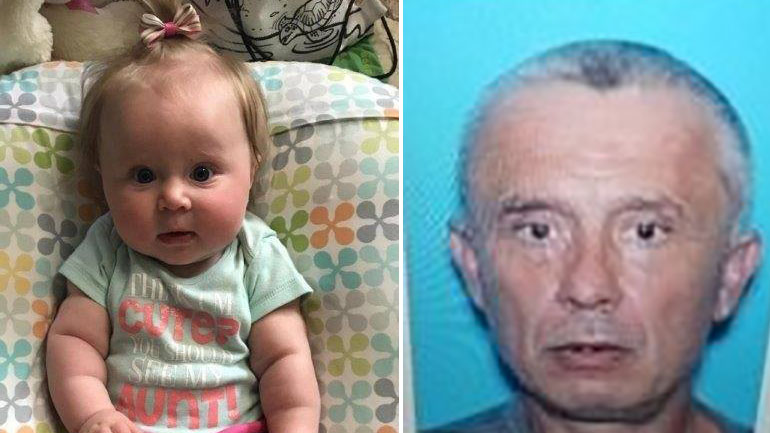 Authorities in Virginia and North Carolina are searching for a convicted sex offender who kidnapped his 7-month-old daughter from her mother at knifepoint, police said Monday.

Emma Grace Kennedy was taken from the Kwik Stop on Riverside Drive in Danville by her father, 51-year-old Carl Ray Kennedy, before 8 p.m. Sunday. The gas station is about three hours southwest of Richmond on the North Carolina border.
Virginia State Police issued an Amber Alert and said the infant is believed to be in "extreme danger."
"My worst fear is that she is just on the side of the road somewhere or left alone," said Emma Kennedy's aunt Amy Metzger told WAVY-TV. "She just brightens our lives and she is adorable and happy and healthy."
Kennedy was possibly seen in the area of Seven Spring, North Carolina, about 6:30 p.m. and may be headed to Oak Island, North Carolina.
Kennedy was last seen driving a gold 2007 four-door Suzuki Forenza with North Carolina license plate FAA-1873 or EKZ-5093. It had front-end damage to the left side.
Police said he also has access to a burgundy Toyota Camry, a blue Jeep Cherokee and a Dodge truck. He may be using the FAA-1873 tags on one or more of these vehicles, investigators say.
Carl Ray Kennedy is 5 feet 8 inches tall and weighs 170 pounds. He has gray hair and green eyes. Police say he has a tattoo of an eye on the back of his right hand, a skull and wizard tattoo on his left arm and a tattoo of a skull with a bandanna over its mouth on his right arm.
His last known location was Randolph County, North Carolina.
Authorities say Carl Kennedy is registered as a sex offender in North Carolina, and is currently out of jail on a $250,000 bond for drug distribution.
Emma Grace Kennedy is 2 feet 2 inches long and weighs 18 pounds. She has blone hair and blue eyes. She was last seen in a light blue onesie.
Anyone who sees Carl Kennedy or Emma Kennedy is asked to call 911.
Copyright AP - Associated Press