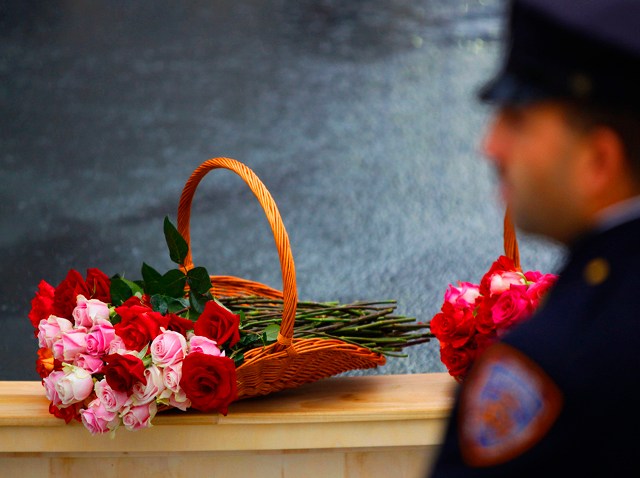 Americans around the nation observed a moment of silence at 8:46 a.m., the exact time eight years ago that hijackers flew a commandeered plane into the World Trade Center, touching off the darkest day in American history.
President Obama and the first lady marked the 9/11 terrorist attacks on the South Lawn of the White House, then the president traveled to the Pentagon, where he spoke of the need to remember the dead and continue the battle against terrorism.
In New York, the mournful strains of bagpipes and drums filled the air in Lower Manhattan as Mayor Michael Bloomberg, who took office just months after the attacks, led the city in a moment of silence. Family members and volunteers read the names of each of the victims killed in the World trade Center attacks.
The crash was the first of four by a murderous cell of 19 al-Qaeda terrorists on Sept. 11, 2001. By the end of the next 102 minutes, another plane had struck the second twin tower, another had crashed into the Pentagon and a fourth -- possibly bound for the White House -- had landed in a Pennsylvania field. At least 2,993 people died in the attacks.
A second moment of silence was observed in New York at 9:03 a.m., marking the time when the South Tower was struck. Two other quiet reflections came at the times when each building fell, at 9:59 a.m. and exactly 30 minutes later.
The deaths included thousands of people who were on the ground or working in offices in the World Trade Center or Pentagon, all of those aboard the four planes, some 341 New York City firefighters, 60 police from New York and the Port Authority and 10 medics. Many of the dead at the World Trade Center included trapped workers who joined hands and leapt from windows as the towers melted in the intense heat of burning jet fuel and collapsed.
In subsequent years, dozens of rescuers and volunteers who helped dig through the smoldering rubble in the weeks and months following the attacks have been sickened, in some cases terminally, from exposure to toxins at the site.