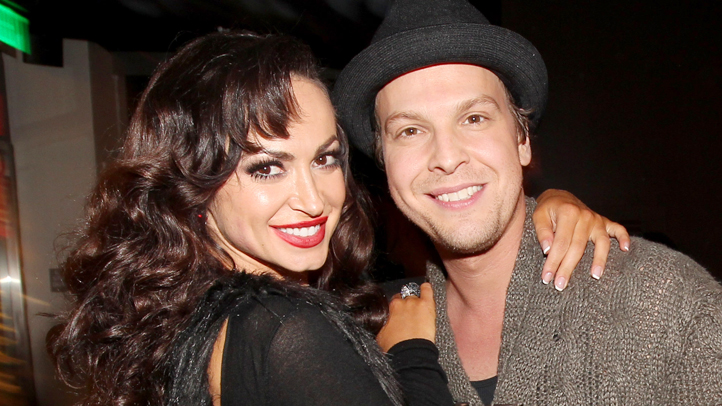 Two couples faced the judges on Tuesday's "Dancing with the Stars," showing off their best moves in the newly introduced Bottom 2 dance-off, but one pair failed to impress the panel.
(SPOILER – This story contains the elimination details from Tuesday's "DWTS.")
VIEW THE PHOTOS: 'Dancing With The Stars' Season 14, Week 5 — Latin Week!
Gavin DeGraw and Karina Smirnoff, as well as Jaleel White and Kym Johnson were the couples who competed in the first dance-off of the season, performing the cha cha side by side after finding themselves in the Bottom 2 following Monday's performances.
But when it came to the judges' decision, it was the rocker Gavin and the pro Karina, who won last season's mirrorball, who went home.
VIEW THE PHOTOS: He's Sexy & He Knows It — Hot Shots Of William Levy
"It's been amazing just being part of the show, my family got to have a great time. We reunited in a lot of ways – I've got family all over the country, so this gave us something to talk about," a smiling Gavin said after Carrie Ann Inaba, Len Goodman and Bruno Tonioli all voted to keep Jaleel and Kym on.
"Karina Smirnoff… having a great mentor, and getting to reach out and know all these amazing people who are a part of the show has been awesome," Gavin added.
The pair did their best to stay in the competition in that final number. Carrie Ann even complimented Gavin on how well he did, "in hold," during that final last ditch effort number, but in the end, it was Jaleel's moves with Kym that won over the panel.
VIEW THE PHOTOS: Melissa Gilbert: From 'The Prairie' To The 'Dancing' Ballroom
Gavin left with a smile on his face, knowing he'd gone much further than anyone had expected.
He started the competition at the bottom of the leaderboard, but moved up through the ranks, until Monday when his samba, which Len dubbed a "shamba," dropped them again to the bottom spot.
VIEW THE PHOTOS: Jaleel White Over The Years: From 'Family Matters' To 'Dancing With The Stars'
Next week, "DWTS" returns with a Motown Special. The remaining couples will dance to live performances of Motown hits, sung by The Temptations, Martha Reeves and Smokey Robinson.
Copyright 2012 by NBC Universal, Inc. All rights reserved.
This material may not be published, broadcast, rewritten or redistributed.
Related Content from AccessHollywood.com:
PLAY IT NOW: Melissa Gilbert On Her 'Dancing' Injury: 'I Feel Healed'
PLAY IT NOW: Gavin DeGraw Discusses Helping Melissa Gilbert On 'Dancing With The Stars'
More from Access: [ Dancing With the Stars Gavin DeGraw Karina Smirnoff ]
Copyright NBCAH - Access Hollywood