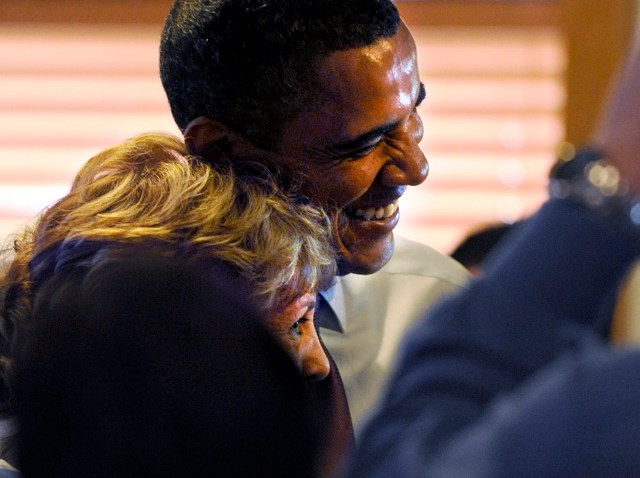 They were just a couple of flirty one-liners delivered to a handsome fellow in a Buffalo-area restaurant. But because the "hottie" was President Barack Obama, the local and national media were on Luann Haley like hot sauce on a chicken wing.
In less time than it takes to say "extra crispy," the formerly anonymous 45-year-old was on big-time news sites around the world. The New York Times blogged about her. The New York Daily News wrote a feature. The New York Post turned an off-the-cuff comment into the headline: "Buffalo woman stuns Obama with spicy pickup line."
Jay Leno got into the act and fired off a joke about her. Someone dubbed her the "Buffalo Cougar." Twitterers passed the story around, and people began leaping to the conclusion that she Haley was a publicity hound, a jerk, a loose woman, a "classless tramp" or all of the above.
'No home wrecker'
At first it was funny. Then it got to be more than Haley bargained for.
"The Internet has a lot of nasty things on it about me and I didn't mean any harm. I'm no home wrecker," Haley told NBC's Buffalo affiliate, WGRZ-TV. "I was just trying to be funny, and I almost regret that now."
Obama had given a speech on the economy in Buffalo Thursday morning. On the way out of town, he had his motorcade stop at Duff's Famous Wings in suburban Cheektowaga to get an order of the fiery snack that was invented in Buffalo's Anchor Bar in 1964.
Haley works for the U.S. Department of Education in an office next door to Duff's. When she and her coworkers saw a lot of security gathering at the restaurant next door, they rushed over, figuring they might get to meet the president.
Haley, who is a Republican, admits that she's the type who says whatever she's thinking and is always looking for a laugh. When Obama said hello to her while working the crowd, she blurted out, "You're a hottie with a smokin' little body."
Everybody thought it was pretty funny, including the president.
"He laughed, and then he said we need to take a picture because we've got to send this back to Michelle," Haley told NBC News. "So I yelled 'Eat your heart out, Michelle.' "
'A little skinny'
Haley got a good hug from the Commander in Chief, after which she told NBC, "I could feel his ribs. He's got to put on a few pounds. He's a little skinny."
A generation ago, the harmless incident would have made a nice story in the newspapers. Today, it instantly became something to be dissected, judged, praised, ridiculed, condemned and repeated in endless variations around the planet.
The Post even managed to talk to Haley's former mother-in-law, who told the tabloid, "She's a lunatic. She likes a good time. She probably meant it harmlessly. It's just a joke."
Some people would have turned it into a good 15 minutes of fame, but not Haley. By the end of the day, she was regretting ever saying anything. According to local news reports, she even turned down an offer to appear on a morning network news show in New York City.
She told NBC News in Buffalo Thursday that she'd already had more publicity than she wanted. "People tell me I should think before I open my mouth," she admitted.
Among those who say that is her teenage daughter. "She yelled at me," Haley said. "She said I embarrassed her. I was just being funny."
Copyright MSNBC - MSNBC