Starbucks' holiday drinks are back -- and so is the controversy surrounding their cups.
The coffee chain unveiled a new paper cup design Tuesday: a green cup with illustrations of the faces of more than 100 people, Business Insider reported.
"The green cup and the design represent the connections Starbucks has as a community with its partners (employees) and customers. During a divisive time in our country, Starbucks wanted to create a symbol of unity as a reminder of our shared values, and the need to be good to each other," Howard Schultz, the company's chairman and CEO, said in a statement.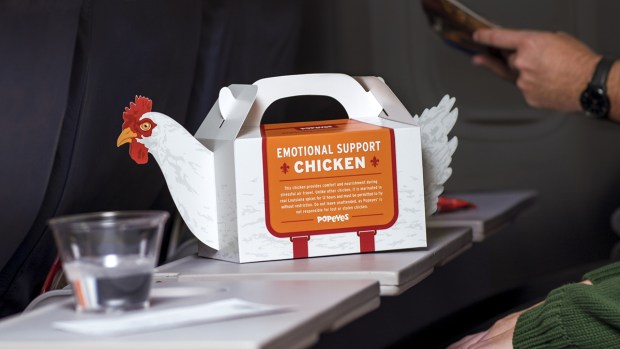 Wild Food Crazes: Emotional Support Chicken
The people are connected through one continuous line, drawn by artist Shogo Ota. While the message isn't meant to be divisive, it reignited last year's controversy over the company's red holiday cups, sparking mixed reactions from Twitter users.
Some voiced their annoyance with the cups.
Thoroughly confused by the @Starbucks green cups...bring back my red-cup holiday cheer! #TeamRedCup

— Shana Wachowski (@slyons330) November 1, 2016
I went to Starbucks this morning and I got a green cup...WHERE IS MY RED CUP WHAT IS THIS GREEN CRAP.

— Becky Swan✨ (@swan_becky) November 1, 2016
When it's red cup season but Starbucks is giving out green ones 🙄 #GetItTogether

— Isabella (@itzabella_matuk) November 1, 2016
Others, however, took it as an opportunity to poke fun at those who complained.
Wait.. is this @Starbucks "green cup" their solution to the Red Cup saltiness of 2015?!

— Christina Marie (@cgeorge192) November 1, 2016
November is here and that means a new Starbucks holiday cup for people to complain about. What? It's green this year? Oh heavens no!

— John Scholl (@JayScholl911) November 1, 2016
Last year, Starbucks sparked criticism across social media when it released its red holiday cups devoid of the word "Christmas" or holiday designs, like snowmen or snowflakes.
It isn't clear whether the company's classic red cups will make a comeback this holiday season. Starbucks wouldn't confirm whether the green cups are part of the chain's holiday plans, or if it would also use red cups.
"The rest of our holiday plans are still under wraps," a spokesperson told NBC in an email.