A day after a 39-year-old surfer was fatally attacked in the waters off remote Surf Beach in Santa Barbara County, authorities said Wednesday that a 15-to-16-foot great white shark killed him.
Francisco Javier Solorio Jr. of Orcutt died Tuesday after having been bitten in the upper left torso, according to an investigation from the Santa Barbara County Sheriff's Department.
A fellow surfer pulled Solorio ashore and performed CPR, which was taken over by responding paramedics from surrounding Vandenberg Air Force Base. He was pronounced dead at the beach, near Lompoc.
Experts had said it was likely that only a great white shark could inflict that kind of fatal harm, and the sheriff's department released its expert's findings Wednesday.
"The shark in this tragic incident has been positively identified as a 15' – 16' foot Great White Shark. Ralph Collier from the Shark Research Committee in Chatsworth, CA, made the determination today after examining the decedent's body," the sheriff's department said in a statement Wednesday evening.
Sgt. Mark Williams of the sheriff's department had said earlier in the day that there have been several shark sightings in the broader area in recent months.
Solorio's death came almost exactly two years after a great white attack killed 19-year-old bodyboarder Lucas Ransom at the same beach. A memorial for Ransom stands near the now-closed entrance to Surf Beach.
On Wednesday, family members would not speak about Solorio, but a neighbor said the surfer had lived with a wife a young daughter.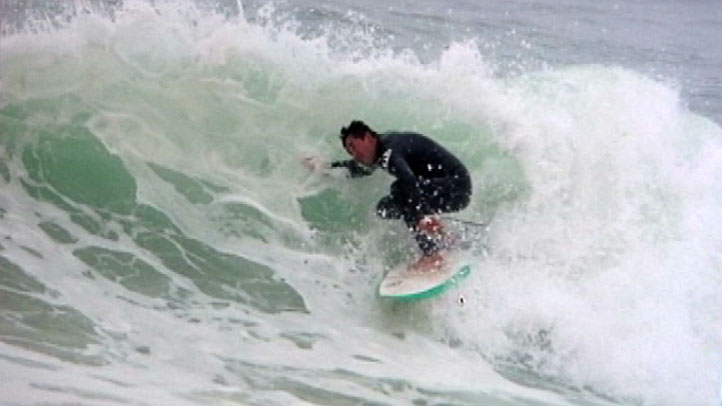 Solorio's friend Brent Lieberman said his buddy's passion was surfing, though he worked in construction.
"He always had a good time when he was out surfing," said Lieberman said, who provided the photo at right of his friend.
"Any time you enter the ocean, you become part of the food chain. It's just something you understand when you paddle out," Lieberman added.
Vandenberg officials had closed all beaches adjacent the Air Force base for 72 hours beginning Tuesday.
"The intent is to allow time for any potential hazard to leave the area," said Col. Nina Armagno, 30th Space Wing commander, in a statement. "Officials from Vandenberg and Santa Barbara County are working together to reopen our beaches."
Solorio's death marks the first fatal shark attack in the United States this year.
In 2011, there were 75 cases of unprovoked shark attacks against humans worldwide, with 29 U.S. attacks, according to annual records kept by the Florida Museum of Natural History's International Shark Attack File.
Of all 2011 attacks, three were in California.
The worldwide figure for 2011 included 12 fatal attacks, none of which were in the United States.