A man protesting Target's transgender bathroom policy at a store in Bourbonnais was arrested Monday, authorities said.
Michael Merichko was charged with disorderly conduct following a disturbance inside a Target store at 1615 N. State Route 50 in Bourbonnais, about 55 miles south of Chicago, according to the Bradley Police Department.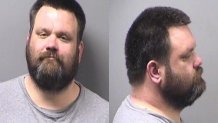 Merichko was allegedly protesting Target Corporation's newly announced policy on letting transgender people use the bathroom that conforms to their identity. Police said his actions caused "panic among store employees and customers."
Just after 1 p.m., multiple police agencies responded to the Target after receiving a 911 call about an active shooter inside the store, according to authorities.
Nearby stores in the shopping complex were placed on lockdown, and police secured the area.
Bradley police Lt. Mike Johnston said investigators later determined Merichko made no threats of shooting anyone in the store.
"We are still looking into how the call came out as an active shooter," Johnston said in a news release.
It was not immediately clear if Merichko had an attorney.
Johnston said a preliminary investigation indicated no shots had been fired and no weapon was recovered at the scene. "A subject was confronted outside the store and taken into custody without incident."
Laura Neveau, who works at a nearby salon, said police were stationed at the entrance of the shopping complex on Route 50 and the road leading into the parking lot, turning people away.
No injuries were reported to employees or customers at the store, police said.
Last month, Target encouraged store employees and customers to use the restrooms and fitting rooms that align with their gender identities.
"We believe that everyone—every team member, every guest, and every community—deserves to be protected from discrimination, and treated equally," Target said in a news release dated April 19.
"Most relevant for the conversations currently underway, we welcome transgender team members and guests to use the restroom or fitting room facility that corresponds with their gender identity," the company said.