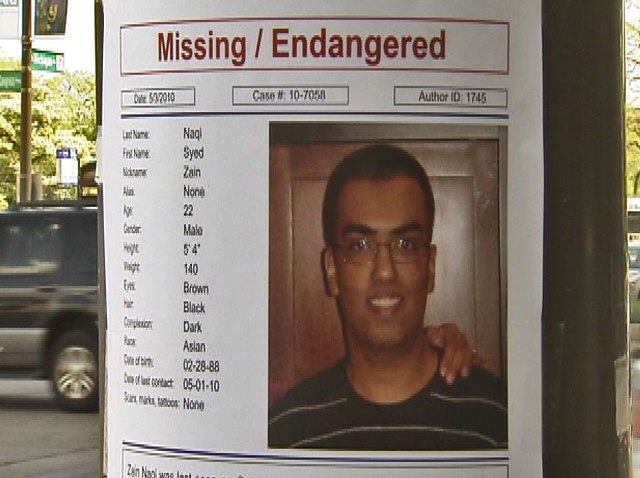 "Goodbye, Dad."

Syed Naqi says that text message, received from his son early in the morning on May 2, was out of the ordinary and was the beginning of a frantic search for the missing Roosevelt University student.

Zain Naqi was at a North Side bar with friends in the hours before the strange text was received on his father's phone. The 22-year-old, whom many described as cheerful and happy, hasn't been seen since.

"He was a very loving person. Very loving," said Zain Naqi's aunt, Kitty Hussein.

Family, friends and professors at a vigil on Thursday said they were baffled because Zain Naqi had big plans for exciting things coming up in his life; things he wouldn't have wanted to miss.

"We were talking about going back to Hong Kong together for his high school reunion. And he was telling me that he was saving up for that," said Naqi's friend, Witten Hau.

Naqi lives with his parents in Elk Grove and drives a dark green Honda Civic that's also missing. Police say Naqi's credit cards and cell phone have not been used since the text message received at 12:15 a.m. on May 2.

Zain Naqi stands about 5-feet, 4-inches tall and weighs about 140 pounds. He has black hair and dark skin.

Anyone with information on Naqi's whereabouts is urged to contact the Elk Grove Police Department at 847-357-4100.