Walking the plank is the only way I can put it.
"Retiring" isn't the right word for what's going on with Carlos Zambrano.
This is Carlos Zambrano we're talking about. It's a broken video game inside his head. But retiring is something you do gracefully, either at the end of a career when you don't feel the passion any more, or it's clear your skills have diminished to the point of being useless to anyone (*cough* Derek Jeter *cough*.)
Zambrano is neither of those. Just a couple weeks ago he was talking about the change the Cubs needed, he still cared. And though he's not the pitcher he was, he's not useless either.
But getting up and walking out?
Well, that's not going to sit well with anyone, and nor should it. Maybe Zambrano knows this is the last card to play to get out of town. A trade wasn't possible because of his huge contract and his underperformance.
He can "retire," get out of the deal, and sign wherever he wants either in the winter or during next season. Maybe he's had it with this organization and team, and this is his plan to finally cut the cord.
Again, I can't sit here and speculate on what's going on in the neurons betweens his ears. That's herding cats on speed.
But there's a word in there that is vitally important to evaluating Zambrano. Underperformance.
It defines everything about him. And unfairly to a point, it's underperformance because of how he was viewed and paid, which has nothing to do with him.
He didn't make GM Jim Hendry sign him to a contract that marked him out as an ace, which he never really was.
That was a battlefield appointment. Z only rose to the title of "ace" because Kerry Wood and Mark Prior consistently couldn't make it to the post. Zambrano always took the ball, and was pretty good. Not great, just pretty good. But no one else was around, and ace you get. Z would have been one of the best No. 2 starters in the league.
But we kept expecting him to dominate, to shut down a team, and he couldn't always.
And there were times when he couldn't lift those around. I remember in 2008, after the Cubs spit up all over themselves in Game 1, Z came out in Game 2 and struck out the side, including making Manny Ramirez look dizzy with three straight fastball. And after he struck him out, Z peered from the mound as if to tell everyone to get on his back.
But he couldn't stop Ryan Theriot and Mark DeRosa from making errors the next inning, and he fell apart with everyone else. He had the attitude until something went wrong, and that doesn't really do you any good.
Iit goes both ways. You can't put up with this silliiness and antics from someone from whom you're not getting everything you need. It's ok to be crazy if you do your job. Z didn't always do his job. And now this is the last straw.
But it's not just an idictment of Zambrano. It's an indictment of Mike Quade, who couldn't control Z and whom Z didn't respect, which a lot of other veterans don't. It's an indictment of Jim Hendry who signed him to this ridiculous contract, babied him, and now lost that investment when he couldn't move him. And it's an indictment of the whole organization that this type of thing could go on.
But let's just be glad it's over.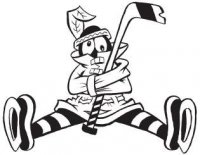 Sam Fels is the proprietor of The Committed Indian, an unofficial program for the Blackhawks and a Cubs Writer. You may have seen him hocking the magazine outside the United Center at Gate 3. The program is also available for purchase online. Fels is a lifelong 'Hawks fan and he also writes for Second City Hockey .