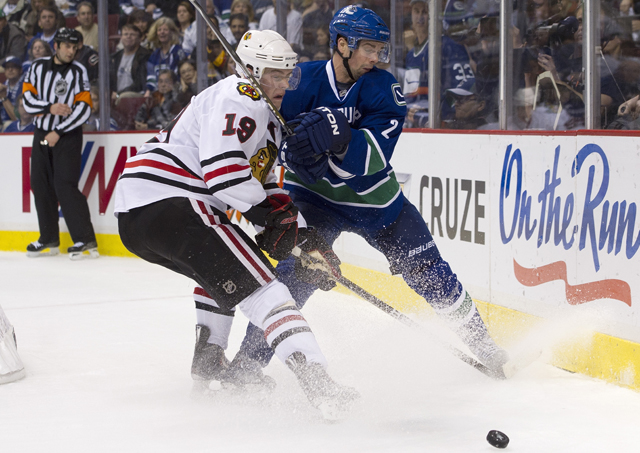 Perhaps the most fascinating thing about watching a playoff series -- other than explaining to your boss why you haven't shaved and are late to work for the past week -- is how the teams adjust from game to game.

After Game 1's loss, it's up to the Hawks to change things to get themselves a win in Vancouver. And simple math suggests they need at least one win against the Canucks. What will they do?
-- More traffic in front of Luongo. This one's simply obviously. You've already heard Coach Quenneville and the players talk about it. But is it possible? Debatable. Especially now with Tomas Kopecky certainly out of Game 2 with the brown brain, the Hawks are not stocked with hulking crease crashers. And Kopecky was only that half the time. You're left with Troy Brouwer, who is skating on the fourth line, and Bryan Bickell, also on the fourth line. So how's that going to work? If the Hawks are serious about this, they'll move Brouwer up to the top line with Toews and Kane to give them more space. Perhaps Ben Smith is that guy on the 2nd line, but that's a lot to ask of a kid in his 7th NHL game. Perhaps it's just a team wide effort, we'll have to see.
-- Change the power play units. I've been harping about this, but having Marian Hossa, Jonathan Toews, Patrick Kane and Patrick Sharp all on the top unit provides two problems. First, it overloads that grouping so the second unit is a vast wasteland where dreams go to die and thus you're cutting all your power plays in half, timewise. Second, it keeps Toews in front of the net instead of where he wreaks all his havoc, from the half-boards and the goal-line. Why handcuff your best player?
-- Survive the 1st period by getting the puck deep. For all the teeth gnashing over how badly the Hawks were mauled in the first 15 minutes of Game 1, they were only behind due to a deflection and one mistake by Brian Campbell. Coming out of their 0-0 would have been a real victory, though it could have easily been 3-0 or 4-0 as well. One can expect the Canucks to come out with the same passion to, in their minds, basically end this series. But if the Hawks continually put the puck behind Luongo and really try and initiate some contact themselves, the Canucks won't be able to dominate quite like they did. Take the crowd out of it for the first 10-15 minutes, and then go to work.
--Get Toews away from Kesler. Kesler pretty much had Toews nullified at even-strength, and the Hawks cannot go without their leader again. If it means skating him on weird lines, or constantly changing when Kesler's out there, fine. But the Hawks need a major contribution from #19 tonight, and getting him away from the best defensive forward in the game might help.