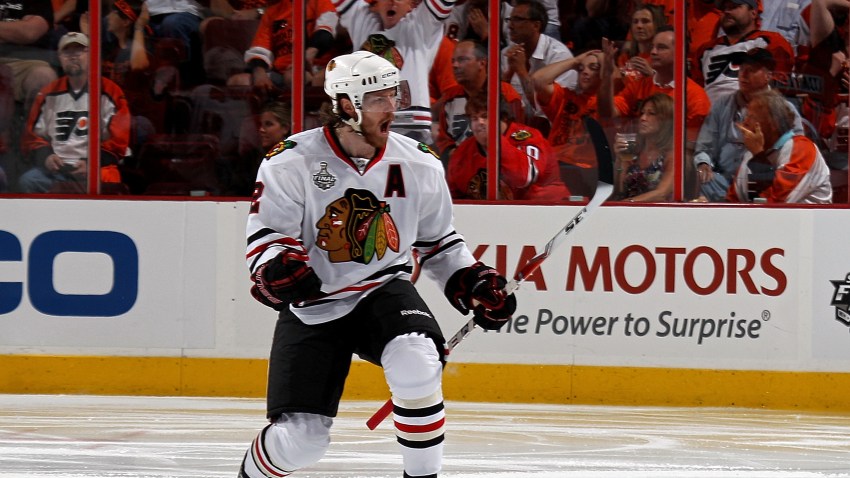 The Hawks were an ornery bunch after last night's game, which provides oh-so-little light in this dark time. It just might be dawning on them that they'd better get their act together or they could become laughingstocks of the entire league, as defending champions missing the playoffs would be.
Duncan Keith in particular is drawing much attention after he had the audacity to drop an F-bomb with cameras and recorders rolling. By gosh!
"(Bleep) the power play," Keith told ESPN. "Nobody goes to the net to score goals. That's why we don't win. The other team had power plays too. They didn't score."
While it's all well and good for someone other than Brian Campbell to get angry about the Hawks and their play, one wonders if Keith's teammates think he has a leg to stand on. "Why, oh, why sir would we get to the net if you can't get the puck there anyway?" is a thought crossing some the players' minds. Or maybe they're thinking it's hard to get to the net when Keith is busy turning the puck over in his zone or the neutral zone.
Keith is an alternate captain, and it's his voice that should be heard. I hope Keith knows that he now has put himself out there and that after calling his teammates out, he needs to pull off performances that remind everyone why he won a Norris last year.
That doesn't mean Keith is wrong. The Hawks only have two players who consistently get to the net and create havoc: Troy Brouwer and Tomas Kopecky. Neither of them consistently do it, and even when Kopecky does it, he's easily moved out of the crease. But you only need one player on a line to do that, and there's two. Bryan Bickell has been working at it and that would give you a crasher on every line in the top three. More disconcerting is in a game like last night's that's mostly along the boards, all the Hawks forwards just don't show the zeal to outwork a thuggish defensive corps.
But where do the changes come from? Stan Bowman's hands are tied by cap constraints. He could move a prospect for a veteran if he had cap space, but he doesn't.
Who would be desired by another team? Kopecky? Doubtful. Hossa? Not if anyone's seen him play recently. Patrick Sharp? This team is still pouting after losing all their friends during the summer. They'd practically wet themselves if Sharp left. Seabrook? Maybe, but you'd have to make up that gap.
Keith may be right, but he can make up for a lot of the problems himself. He can fight on the penalty kill once again, instead of treating his own crease like 2-for-1 at the club. He can be smart and take that extra stride to make the right play out of his zone. He can actually move his feet to open up a shooting lane instead of banking it off into cyberspace.
He has to now.