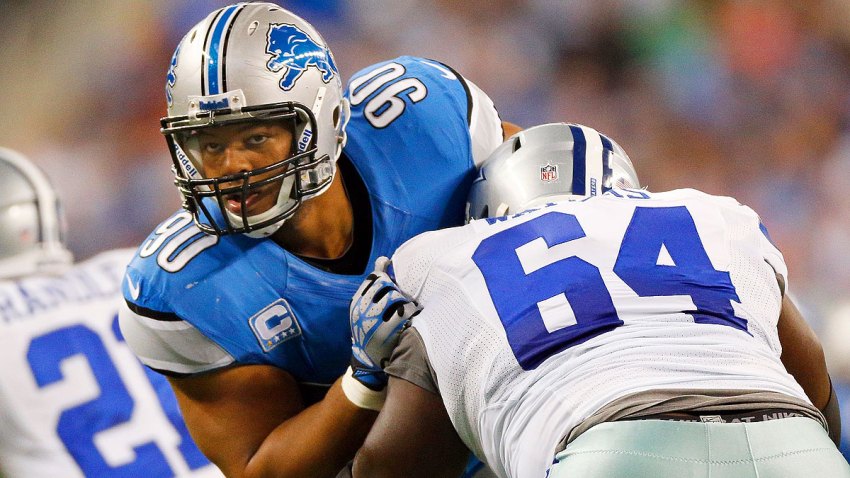 The Chicago Bears may have drafted two defensive tackles and signed three new defensive ends in the offseason, but there's no law that says they can't dream big when it comes to solidifying their line for the long-term.
At least that's what Willie Young is thinking. The lineman, who has four sacks so far this season, went on the "Carmen and Jurko" show on ESPN 1000 this afternoon, and he said that he wouldn't mind being reunited with one of his former teammates from the Detroit Lions: Ndamukong Suh:
"I could see myself doing that (making a recruiting call to Suh when he hits free agency). It just depends on, obviously, it's gonna come down to a business standpoint for him in particular. But at the end of the day, we've got some good guys here right now. He could come and join me. He could come and join what we're about to build over here in Chicago. We would appreciate it. We would like to have him."
Aside from Suh's penchant for on-field shenanigans (which seems to have subsided at least a little bit with Jim Schwartz's ouster as head coach), there is a practical reason why the Bears wouldn't sign Suh: money.
Making $12.5 million this season, Suh is going to be looking for a sizable pay increase if he hits the market, and with big dollars already allocated to Jared Allen (4 years, $32 million) and Lamarr Houston (5 years, $35 million), it's unlikely that they could swing the cash to sign Suh without getting rid of at least one of their defensive ends.
Even still, adding Suh to the middle of the line would instantly transform the Bears from a solid defensive line to an elite one. Suh is an incredible talent at the defensive tackle position, and if the NFL suddenly loses its collective mind and raises the salary cap by $15 million, the Bears would be silly not to go after him.