A 1-year-old boy was fatally shot while riding in a car with his mother Saturday afternoon in the Englewood neighborhood on Chicago's South Side, police said.
The shooting was reported at around 2 p.m. on South Halsted Street near West 60th Place. According to officers, the boy's mother, who is approximately 22 years old, had left a laundromat and was driving south on Halsted when another vehicle pulled alongside her.
Someone inside that vehicle opened fire, striking the child in the chest, Chicago Police Department Chief of Operations Fred Waller said. The mother drove the young boy to St. Bernard Hospital where he was pronounced dead.
The mother sustained a graze wound and was initially taken to St. Bernard Hospital, but later transferred to the University of Chicago Medical Center for treatment.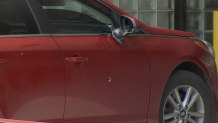 Her vehicle, a red car, appeared to have been damaged by at least one bullet and was surrounded by crime scene tape outside the St. Bernard Hospital's emergency room entrance.
Approximately seven to eight shots were fired in the incident, leading police to believe the shooting wasn't random, officers said.
At a news conference, Waller pleaded for violence to end, saying incidents like these are happening far too often.
Just last weekend, 104 people were injured in shootings across the city, including a 3-year-old boy who was fatally shot while riding in a vehicle in Chicago's Austin neighborhood.
"When is this going to stop?" Waller said. "When are we going to say enough is enough?"
The Chicago police official said he "didn't even have to words" to see the young boy's family, noting the tremendous strife they were going through.
"We'll catch them," he said, referring to the suspect. "No doubt. We'll catch the person who killed that 3-year-old. We'll catch the person who killed this kid. But that's not going to bring this kid back, that's not going to satisfy this family."
Chicago Police Superintendent David Brown said Saturday night that all residents need to be outraged by the violence the city is seeing, adding that the crime isn't just a problem in Englewood, on the South Side or the West Side.
"This baby, and all of our residents, deserve better..." he said. "...For the sake of Chicago's children, please come forward to help bring the trigger pullers to justice."
In a tweet Saturday evening, Mayor Lori Lightfoot addressed the infant's death, adding she is "tired of burying our children."
President Trump sent a letter to both Lightfoot and Illinois Gov. J.B. Pritzker Friday night urging them to take action in curbing gun violence in Chicago and criticizing their leadership.