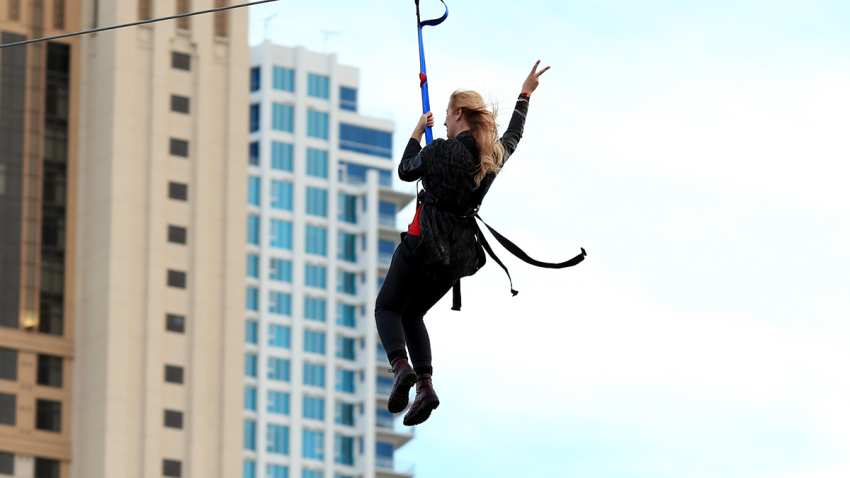 If you're looking for an interactive but inexpensive Valentine's Day date idea – or just something to different to this weekend – it doesn't get much better than this: Free ziplining and hot chocolate will be offered for three days only in Millennium Park starting Saturday.
Experience Kissimmee is building a 200-foot zip line for those who want to fly across the park and experience the city skyline in a whole new way as part of their "Escape Cold. Warm Your Heart" campaign.
Chicagoans will be able zip their way from the top of a three-story platform to a warm 'Toasting Tent' below, the company announced. In the Toasting Tent guests will be able to enjoy sweet treats, register to win prizes and vacations and stock up on cold weather gear.
Not only that, but there will be a baby alligator from Gatorland on display for visitors to interact and take pictures with.
"Whether ziplining through the treetops, kayaking the headwaters of the Everglades or taking a backcountry airboat or swamp buggy adventure, visitors to Kissimmee have many ways to enjoy the pristine beauty of Florida," DT Minich, president & CEO of Experience Kissimmee, in a press release.
"For this campaign, we decided to bring some of the warm-weather fun to our freezing friends here in Chicago."
The 'Freezin' Gator Zip' will be located at the North Chase Promenade of Millennium Park (201 East Randolph Street). The Experience Kissimmee station will be operational from 11 a.m. to 5 p.m., Saturday through Monday.
More information visit ExperienceKissimmee.com or the event's Facebook page.