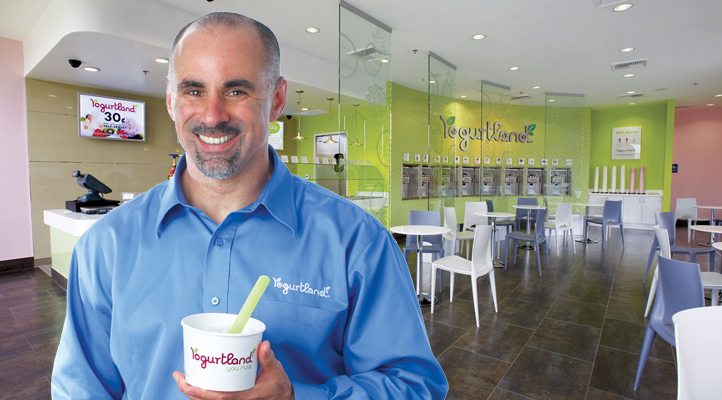 Ever heard of Yogurtland? If not, you will in time. Recently, the California-based chain planted its froyo flag within our city limits by establishing two stores: one in Arlington Heights and one in Wheeling. Within the next couple of years, the company hopes to have dozens of them -- around 40.
To find out why Yogurtland is so optimistic about Chicagoland, I gave Larry Sidoti, the company's vice president of franchise development, a jingle.
You guys just opened two stores in the Chicago area. Why did you pick those two locations and how are they doing so far?
Larry Sidoti: They're doing extremely well. They're exceeding our expectations. We selected them primarily because it's the area in which our franchisee lives. Normally we don't do that but in this case we had two really good opportunities and we elected to go ahead and do that. Typically we look at the best location available and oftentimes it doesn't line up perfectly with being right next to or right in the neighborhood of where our franchisee lives, but in this case it did work out.
You said they're exceeding your expectations. What were they for these locations?
Larry Sidoti: Our expectations were for both of them to be average Yogurtland stores as far as performance. They're both well above the average, our sales numbers. Right now both are tracking to do above what our average unit volume is for the system, which is 782,000.
What makes these franchises special? What do they add to the Chicago area that we didn't have before?
Larry Sidoti: The thing that separates Yogurtland from everybody else is it's the one who pioneered and created this self-serve model for frozen yogurt, which completely changed the experience that customers have when they purchase a treat. Obviously it's yogurt, but the premise for our concept was to deliver a great product at a great value. Yogurtland will typically be meaningfully less expensive than our competitors in any given market, primarily due to our buying power and our ability to secure ingredients at favorable pricing, which gets passed along to our franchisees, which gets passed along to our customers. But also, we are the only yogurt chain that actually formulates their own products. We do all our formulations and flavor creation in-house. So, everything is proprietary to Yogurtland. Nobody else can get our flavors. We have some of the best R&D and product-development people in the business. They do a fantastic job of creating flavors and customers recognize when you go into a Yogurtland store that there is a distinct difference.
So, how that translates into a great business opportunity is we do have enormous buying and purchasing power. And also, brand recognition. Our name translates well. You know exactly what we do. There's no confusion. Also, it's empowering for customers. They're in complete control. They make what they want. They create what they want. They get as much as they want, as little as they want and whatever they want. So, it is an empowering experience that translates into an entertaining experience. The model has proven to be extremely well received by customers, which translates into high-volume stores with lots of traffic and lost of excitement.
Speaking of that excitement, the release you guys sent over says you're planning to open 40 stores in the area in the next half-decade?
Larry Sidoti: Yeah, we'll probably fulfill that in three years.
What research did you do or what makes you so optimistic about the Chicago area for Yogurtland?
Larry Sidoti: Well, the population density is significant, obviously it's the third largest city in the country. The way the landscape lays out, it translates well to what has worked for Yogurtland where you've got your focal point being Chicago and the downtown area and you've got really nice suburbs and outlying areas that look and feel a lot like what we've had success with in all our other markets. We're looking at hitting the market hard. We're coming in both with corporate stores as well as franchise stores.
What sort of work or research would you recommend other businesses do if they're interested in franchising or opening outposts in other parts of the country?
Larry Sidoti: When you're looking at a franchise, you need to start with the franchisor and understand and have a passion for the business. Is this something you want to be fully engaged in and are you aligned with the values and beliefs and the principles of the franchisor? Do you fit in their culture? You're going to be married to them for several years, so is this somebody you're aligned with? First and foremost as a franchisee you have to be comfortable with that.

David Wolinsky is a freelance writer and a lifelong Chicagoan. In addition to currently serving as an interviewer-writer for Adult Swim, he's also a columnist for EGM. He was the Chicago city editor for The Onion A.V. Club where he provided in-depth daily coverage of this city's bustling arts/entertainment scene for half a decade. When not playing video games for work he's thinking of dashing out to Chicago Diner, Pizano's, or Yummy Yummy. His first career aspirations were to be a game-show host.