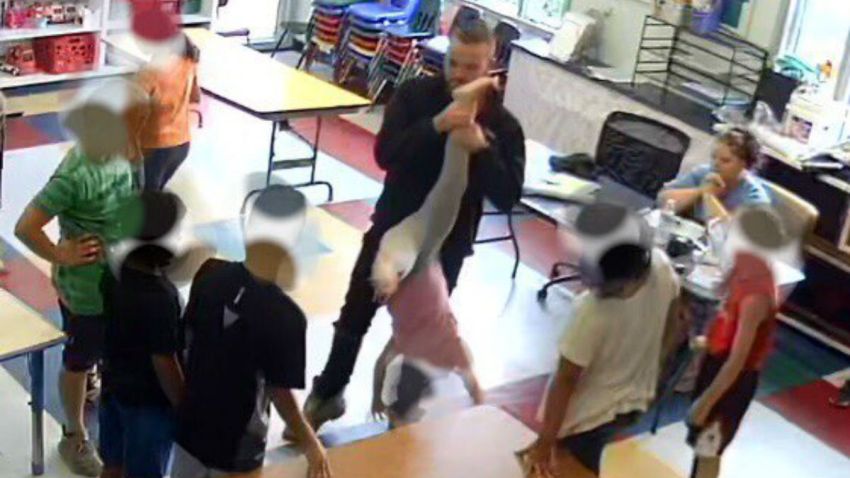 Two Ohio childcare workers have been charged after they allegedly watched a 5-year-old girl endure "extreme bullying by students" in an incident all caught on camera, police said.
Emma Dietrich, 31, and Joshua Tennant, 27, from the Worthington Learning Center were each charged with endangering children, according to a police report released Tuesday.
The pair were arrested after detectives "viewed a video recorded on Aug. 13," according to the report.
In the footage, the two adults are seen sitting at a table in the classroom when a 5-year-old is brought in by an older student, police state.
"In the video the older students are grabbing, pulling, dragging, swinging, and just 'bullying'" the child, the report states, adding that the girl "appears frightened and keeps her eyes closed or covered and attempts to curl up into a fetal position." When she tries to get away, the group grabs her and holds her down, police said.
Photos of the incident and the workers involved were posted to social media by the Columbus Division of Police.
The adults allegedly sit in their chairs at a table and watch what is happening but "do not attempt to stop or stop the 'bullying,'" according to the report. At one point, Tennant even picks up the child by her right ankle and carries her upside down before setting her on a rug, according to police.
"This case remains an ongoing investigation," the department wrote on Twitter. "While we are protecting the identity of the 5yo victim we want to share with you the severity of what little girl endured in a learning center. Actions by educators who are now facing criminal charges."
Worthington Learning Center declined to comment when contacted by NBC 5, but police said the facility has been cooperating with its investigation.