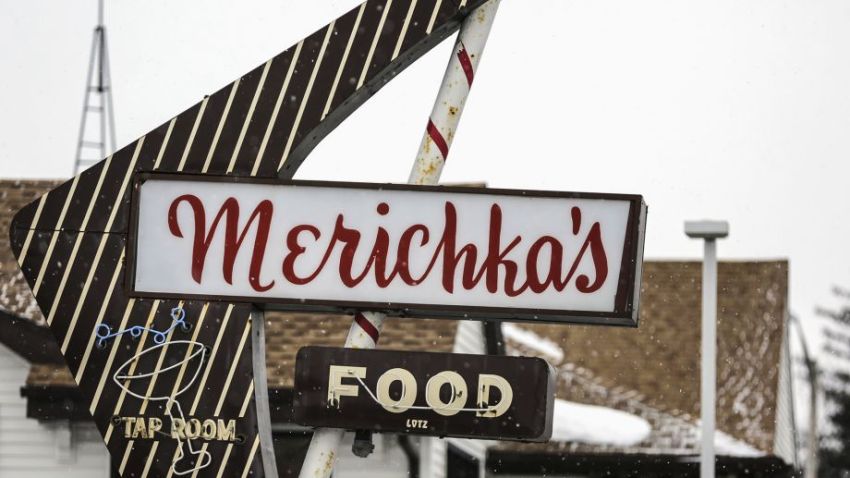 Merichka "Mary" Zdralevich and her son started selling sandwiches off the porch of her house on 604 Theodore St. in 1933 to satisfy the hunger of factory workers going to and from work.
Within decades, the house had turned into a 120-seat eatery that primarily served the neighborhood while focusing on food and family.
Today, that house is an expanded 300-seat restaurant named after Merichka, serving 5,000 people per week. And it has become a staple of Crest Hill and Illinois cuisine.
"It kept snowballing and getting bigger through expansions into what it is today," said Joe Zdralevich Jr., Merichka's grandson and the restaurant's co-owner.
Zdralevich Jr., his sister Mary Kay and brother George own the restaurant, which in January received the "Enjoy Illinois: Delicious Destination" award by the Illinois Office of Tourism.
The distinction is given out to the top 25 restaurants in the state that are "authentically Illinois" and "are beloved destinations for visitors and locals alike," according to a news release by the Office of Tourism and Heritage Corridor Convention and Visitors Bureau.
Merichka's is famous for its version of the "poor boy" sandwich, a long sub sandwich consisting of cooked meat on French bread that originated in Louisiana.
The restaurant was also lauded for its longevity, being named the oldest family-run restaurant in Will County, now in its fourth generation of management.
Zdralevich Jr. said Merichka's has kept customers coming and attracted more through the strength of its food, family and employees.
Eight decades
The restaurant passed from Merichka to her son Joe Zdralevich Sr. After his death in 1989, ownership went to his three children, who have kept the restaurant afloat through the recession.
Zdralevich Jr.'s son, Joe Zdralevich III, and Mary Kay George's son, Ryan George, manage the restaurant and are in line to inherit ownership.
Zdralevich Jr. said the restaurant's strong family roots and large returning customer base helped it survive several economic downturns as well as a fire that severely damaged it in the early 1990s.
"The hardest part of the recession was when we cut employees," he said. "But it got us to be a lot more efficient."
Merichka's has undergone two significant expansions, Zdralevich Jr. said. In the late 1950s and mid-1960s, the restaurant expanded to gain customer space as well as a new kitchen, red room and dish area.
In 1970, a second big expansion created space for a butcher shop, where the restaurant has since cut its own Choice USDA meat. It also included a banquet area, which is now storage for decorations, signs and other items used by the restaurant over its eight decades.
Generations of employees
Crest Hill resident Gen Klainsek, a Merichka's regular, remembers the first time she dined there 62 years ago, when she was 18.
"It was real friendly," Klainsek said. "It was mostly the neighborhood that went there. There weren't too many restaurants around, and they had good food."
But she also worked at the restaurant as a waitress for a year.
Ray Soliman, now mayor of Crest Hill, started his first job as a busboy at Merichka's in 1973. He also washed dishes, bartended and helped with management.
"I made $1.65 an hour working my way through high school and college," Soliman said. "Many Crest Hill young people worked at Merichka's at some point growing up."
Heather Highbaugh has worked at Merichka's for the past 18 years. What keeps her at the restaurant is the family.
"Generations come and work in Merichka's," Highbaugh said. "People come and go, but everyone is part of the Merichka's family. They're there if you're going through a rough time."
Delicious destination
Highbaugh said above all else, the food keeps customers coming, especially the poor boy sandwich.
The restaurant first served the poor boy in 1959, after Joe Zdralevich Sr. and his wife went to the Kentucky Derby and brought back the recipe. The item includes two long slices of French bread seasoned with Merichka's garlic butterine, along with sandwich steak or chicken.
"It's still our most popular item," Joe Zdralevich Jr. said, adding that the restaurant sells about 3,000 poor boy sandwiches per week.
Merichka's has found recent success in selling chicken and spicy chicken poorboy sandwiches.
The restaurant also takes careful measure to make sure its appetizers are top quality. Another fan favorite, onion rings, are fried after the onions sit in water for a day.
"It's hard work running a restaurant, keeping employees and customers happy," Joe Zdralevich Sr. said. "My dad said if you have a good product, good price and good service, you'll keep customers coming back."
Soliman said the restaurant is a tremendous asset to the city.
"We're very proud to have Merichka's in Crest Hill," he said. "For 82 years it has made Crest Hill a destination point. ... If they've been around this long, they must be doing something right."
___
Source: The (Joliet) Herald-News, http://bit.ly/1JXx8BS
Copyright AP - Associated Press