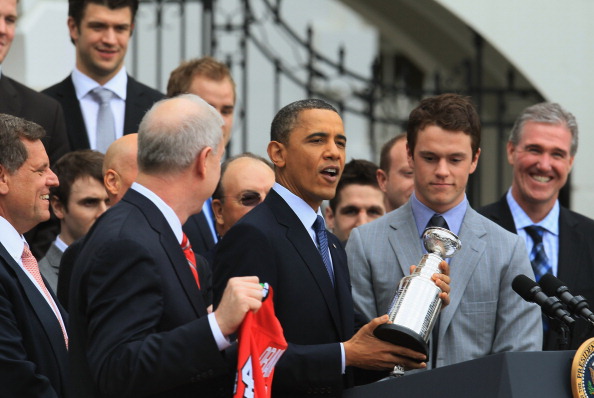 I was asked to write something about the Blackhawks' stop at The White House on Friday. But I didn't know what to say. I was't meeting the president, I wasn't getting the tour, I certainly wasn't at the break-glass-in-case-of-need-of-bland press conference.

I think that for most Hawks fans, it just felt like a small gimmick. Sure, it's part of the spoils of a championship, and on some level we all appreciate that, but I bet the Hawks rolling up on The Tonight Show or before the Cubs-Sox game meant more to them than did their stop at 1600 Pennslyvania Avenue months after the fact.

Maybe that's the problem. This celebration of a championship came so deep into the defense of it, it seemed non-sensical. It's hard to pin down.
On the one side, it was another time, and perhaps the last, when we were directly reminded of last spring. We could look at that cup and those players one more time together and rejoice in what we all got to experience together. That's never a bad thing.

But for players and fans it's probably time to reserve all that to the memory bank, to vault away our memories and visions for when we personally need them. You can only revere a championship team for so long. Look at how pathetic the worshipping of the '85 Bears has become around here. I'd hate for that to happen to that Hawks team. So let's get down to winning one or two or five more.
I know i'm not the only Hawks fan that gets a little uncomfortable whenever there's an event with John McDonough and Scotty Bowman front and center. McDonough, for all the good work he's done, still rubs a lot of the core fans the wrong way. Maybe it's the past association with the Cubs, but for me it's the arrogant, slimy persona he portrays. I don't like the buzz that he gets involved with personnel decisions he has no business doing. He always looks like he's his biggest fan, and his torpedoing of Dale Tallon, along with Scotty Bowman to instill his son, was nothing short of sickening. There's something behind that smile I'll never like.
However, and in the issues of fairness, I also have to compliment McDonough when he does something right. The team's visit to the Walter Reed Center most certainly was one of those times. Not only did it provide a lift to our soldiers there, which is most important, but hopefully provided some perspective to the players themselves. And we know some of them could use it. That was well done all around, and McDonough and the Hawks should be loudly cheered for that.
Copyright FREEL - NBC Local Media