A suburban elderly couple who went missing after leaving for a doctor's appointment this week has been located.
Donald Warren, 87, and his wife Janette Warren, 80, had been last seen by family members Tuesday morning in the area of North and Harlem avenues, according to Wood Dale police.
It's not clear if they ever made it to the doctor's office for their appointment, but family members told police early Wednesday morning that the couple still hadn't returned home. Both suffer from mild to severe dementia and may be in need of medication, police said.
There was a confirmed sighting of the Warrens at Irving and Western in Chicago on Wednesday, according to Wood Dale police. The couple spent about two hours at the gas station and Dunkin Donuts between approximately 3 p.m. to 5 p.m.olice confirmed the couple was pulled over in Deerfield.
A police officer also reported seeing in the opposite direction of their home. The officer said the couple went to a Thorton's gas station in suburban Cary.
Security cameras captured the pair inside, where Donald Warren is seen buying a cigar. Outside, the two flagged down a Cary police officer and asked for directions.
"They did contact a Cary Police officer at a gas station saying they would stay at a hotel for the evening," Rivas said. "That gives us some solace, but we are still concerned about the medical needs."
Their vehicle was heading east on Route 14 in suburban Cary around 1 a.m. Wednesday.
The pair was seen driving a 2006 Silver Dodge caravan with Illinois plates 18843CV. Authorities said the vehicle has distinct markings on the side featuring the logo of the Cavalier's Drum & Bugle Corps., an organization Donald Warren has belonged to for several years in the Rosemont area.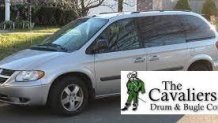 "What we are doing is checking area hospitals, contacting police departments in the area as well as contacting IDOT to see if their plate has gone through one of their tollways," said Wood Dale Deputy Chief Mike Rivas.