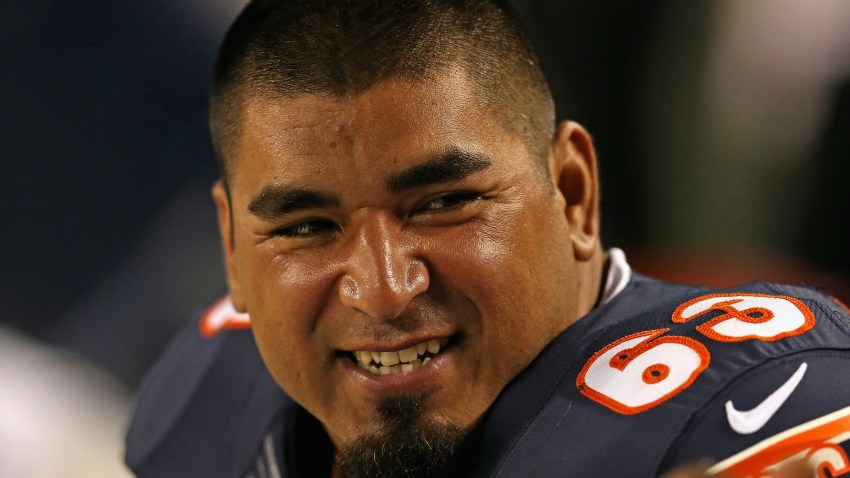 The Chicago Bears have seen a good deal of roster turnover over the past few months, with long-time veterans like Charles Tillman and Lance Briggs heading elsewhere after productive careers with the team.
Another player joined that list on Thursday morning, as the team officially released center Roberto Garza from his contract. Garza spent the last 10 seasons with the Bears, playing for the team that reached the 2007 Super Bowl and then taking over at the center position after Olin Kreutz was let go by the team. Over that span, Garza became more than just an offensive lineman for the Bears; he became a go-to leader in the locker room and on the gridiron.
Garza will likely be replaced at center this season by new acquisition Will Montgomery, but more importantly than replacing the veteran on the field is the question of who will replace him in the leadership role that he so excelled at. Guys like Tillman and Briggs could have stepped into that void, but with their departures also having to be addressed, this team is going to need a new voice to step up and be a go-to source of leadership.
There are quite a few veterans who could ascend to that role, but all come with their own foibles and flaws. Kicker Robbie Gould could potentially fill that role, but kickers are always coming and going from teams, and Gould could potentially be cut loose at any time. Matt Forte is another guy that comes to mind, but it appears as though he'll be able to hit free agency after the 2015 season, and it doesn't seem likely that the Bears will re-sign him to the money that he wants.
Tight end Martellus Bennett is a very outspoken player, but after his incident with Kyle Fuller in training camp last year, it isn't likely that he has the trust and following of the locker room necessary to be a leader. Jay Cutler is in a similar boat, as his contract and position on the field would lend themselves to a leadership role, but he doesn't seem like he's got the temperament to seize the opportunity.
There is one player that seems like he checks all of the necessary boxes to be a leader for the Bears, and that's right guard Kyle Long. Even though he's only been in the league for two seasons, Long has already shown that he is one of the hardest workers on the team, and his skills keep developing as he continues to play. He has made the Pro Bowl in each of his first two seasons, and he has the perfect blend of serious attitude and willingness to cut loose that a good leader should have, depending on what the locker room demands at a particular moment.
If you need evidence of just how seriously Long takes his role on the Bears, his tweets on Thursday about what Garza meant to him provide plenty. Saying that he was willing to "carry the torch" that Garza held for so long, Long thanked him for taking a "broken dumb kid and turn(ing) him into a man." Those are some heavy words of praise, and they indicate a willingness to take on whatever role the Bears want him to take on.
Long will only be a third-year starter next season, but he already has what it takes to be a veteran leader for this team. It will be fascinating to see whether or not he ascends to that role, and it will be one of the more interesting stories as the Bears prepare for the new season.