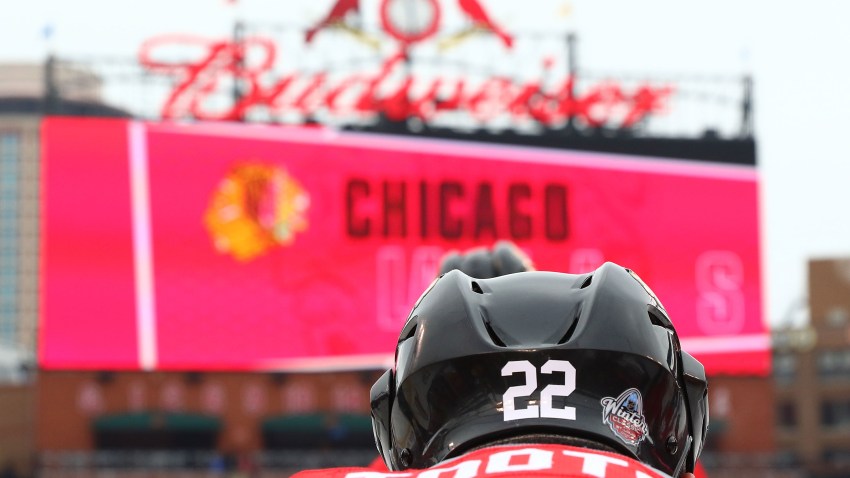 The Chicago Blackhawks got to play in an outdoor game for the fourth consecutive season on Monday, and once again the result was a poor one as they were defeated by the St. Louis Blues in the annual Winter Classic game.
Vladimir Tarasenko scored two goals in the final eight minutes of regulation, and Patrik Berglund scored as well as the Blues won their first ever outdoor contest. Michal Kempny scored the lone goal of the game for the Blackhawks as they dropped to 1-4 in outdoor games in team history.
Despite the slow ice conditions, the Blackhawks didn't seem to mind and they got on the board just over a minute into the game. After cycling the puck around the offensive zone, Michal Kempny got a pass at the blue line, hammered a knuckling shot, and it eventually skipped over Jake Allen's shoulder to give the Blackhawks a 1-0 lead.
The first period continued with the Blackhawks getting more scoring opportunities, but Allen was able to turn most of them aside. Artem Anisimov and Patrick Kane both got good looks on a power play late in the period, with Anisimov's shot skidding just wide and Kane's shot getting stopped on a point-blank attempt.
Early in the second period, the Blues seemed to get their sea legs underneath them, and their offense finally got on the board. After a tremendous breakout play, Patrik Berglund received a brilliant saucer pass from Alex Steen and potted a shot past Corey Crawford to knot things up at 1-1.
In the final minutes of the second period, both teams got power play opportunities, but the goaltenders made some key saves. Allen was first up as he stood tall after a Robby Fabbri boarding penalty about halfway through the frame, and then Ryan Hartman's late interference call was killed off by Crawford to keep the game tied up.
That tie score held up until about eight minutes to go in the game, and it was St. Louis that ended up moving ahead on the scoreboard. After a bad pass by Richard Panik, the Blues had a 3-on-1 rush the other way, and Vladimir Tarasenko's attempted pass across hit Niklas Hjalmarsson and trickled into the net to give the Blues a 2-1 lead.
Just over a minute later, the Blues scored again. Once again it was Tarasenko, as he came streaking up the left side of the ice and rifled a wrist shot over Crawford's glove to extend the Blues' lead to two goals in the closing minutes.
Just for good measure, Alex Steel scored an empty netter in the closing seconds, and the Blues cruised to victory.