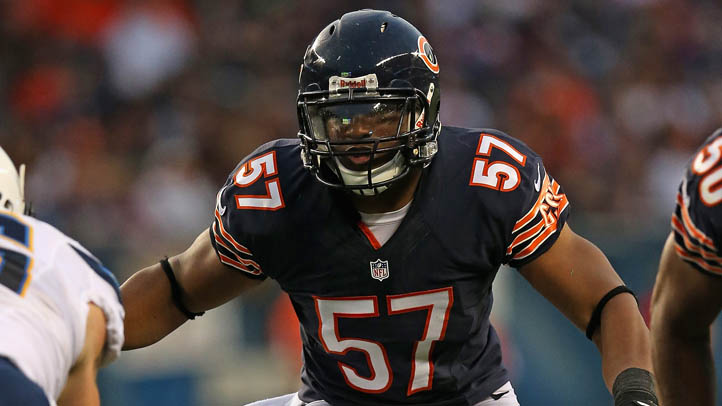 Arguably the biggest story from the Chicago Bears' offseason was the departure of legendary linebacker Brian Urlacher, who was told that the team would opt not to re-sign him and then announced his retirement earlier this year.
With a gaping hole left in the middle of their defense, the Bears went to work trying to find a suitable replacement for the man who will find his way to Canton someday. For starters, they brought in free agent LB DJ Williams, and then they followed that up by drafting LB Jon Bostic in the second round of April's NFL Draft.
Williams came into training camp as the starter on the club, but a calf injury ended up opening the door for Bostic, and he seemed to run through it. He started several games for the Bears, and was even held out of last Thursday's preseason tilt against the Cleveland Browns, seemingly signaling that he was going to be starting at middle linebacker on Sunday against the Bengals at Soldier Field.
On Monday, however, things took an interesting turn. Williams returned to practice after the weekend off for the team, and on the Bears' official depth chart that was released on Tuesday afternoon, he was listed as the starting middle linebacker, with Bostic relegated to back-up duty.
It was with that context in mind that Urlacher spoke his mind to Tom Waddle and Marc Silverman on ESPN 1000 Tuesday afternoon. "I like the decision with DJ," he told the hosts. "I know the young kid had a good preseason but it is the preseason. He did well for what they asked him to do, but I like putting DJ in there."
The Williams vs. Bostic battle for the MLB spot Sunday is an intriguing one for Bears fans to keep an eye on, simply because it will provide a window into head coach Marc Trestman's thinking. He has already decided to keep all six rookies that the team drafted in April, as well as three undrafted free agents that the Bears brought in, but starting Williams would show that the team is serious about utilizing its veteran talent as well.
Ultimately, if Williams is healthy, Urlacher is right and DJ should be the one starting in the middle. The Bengals are a team with a versatile arsenal of weapons, with QB Andy Dalton able to both throw the ball to tight end tandem Tyler Eifert and Jermaine Gresham, as well as All-Pro wideout AJ Green and hand it off to rookie Giovani Bernard.
That kind of balanced offensive attack is going to require a linebacker with a complete skillset to compete against, and despite his successes in the preseason, there are areas of Bostic's game that need work in terms of catching up to the speed of NFL games.
What do you think, Bears fans? Should Williams get his spot back as the starter, or should Bostic's preseason performances buy him a spot in the lineup?