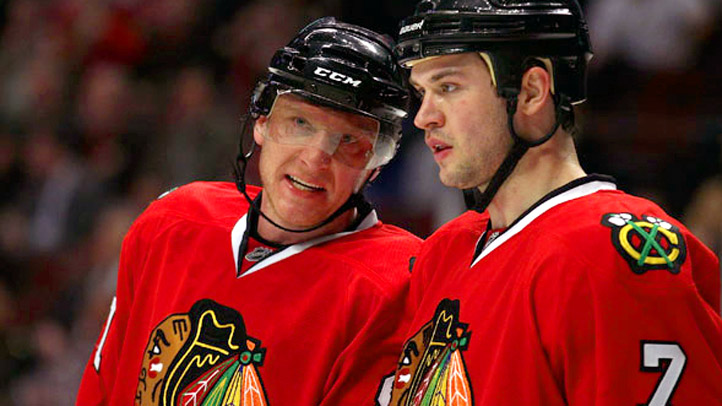 The NHL's trade deadline is here -- 2 p.m. Monday, to be exact.

Usually this frenetic day is one that has Canadian media on the verge of a stroke. However, the feeding frenzy started earlier this year, with something like 28 trades already being completed in just the past few weeks. So it won't be headrush of past years, but with so many teams still vying for position it won't be boring either.
It's no secret that the Hawks have been looking for a slob to fill out their third defensive pairing, someone with size and snarl who can clear the crease and block shots on the power play. A few names that have been thrown out there are the Edmonton duo of Jim Vandermeer and Ladislav Smid. We've seen the Vandermeer movie here before, and we gave it a thumbs-down then. Vandy is just slightly north of a total clod, isn't all that big, and will occasionally still fancy himself a puck-rushing player, and leave himself horribly out of position.
He does have the requisite nastiness, but it's in all directions which can lead to all sorts of silliness. Smid is the more interesting prospect, with many years on Vandermeer and size as well. He can still be molded and could stick around for years. That may be vital as with Seabrook's extension one of the top four is probably getting launched this summer, namely Campbell or Hjalmarsson, and Smid could fill in there next year.
Some other names you'll hear are Tampa's Brett Clark, who's a definite no, and perhaps Buffalo's Steve Montador. Montador would be a good fit, but with Buffalo's new owner promising big things it's unlikely they'll dump anyone they think can help them get to the playoffs.
It was a little surprising to hear GM Stan Bowman talk about finding depth at center. But not that surprising, considering Dave Bolland's move to a pure offensive role (for the most part) leaves the Hawks without a checking center. Jake Dowell isn't up to it, and fits better on the fourth line. Can't give you too many names here, but one we heard earlier in the year was Philly's Blair Betts, who's a nasty litte cuss and would provide the "jam" that the Hawks forward corps lacks at times.
But we'll find out with everyone else.