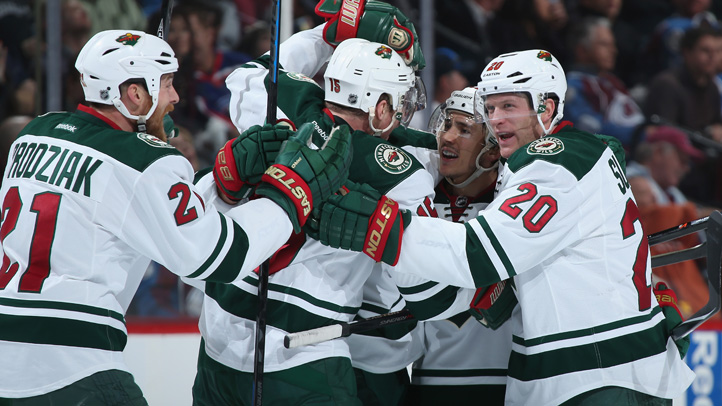 The Chicago Blackhawks will continue their quest for a second straight Stanley Cup by facing off against the Minnesota Wild Friday night at the United Center at 8:30. The game will be shown on the NBC Sports Network.
Game 2 will also be held at the United Center Sunday at 2 p.m. Game 3 is scheduled for Tuesday in Minnesota at 8 p.m.
Hawks fans were watching with bated breath as the Colorado Avalanche and Minnesota Wild battled back and forth on Wednesday night in an epic Game 7 in Denver, but they had to celebrate just a little bit when Nino Niederreiter scored on a 2-on-1 rush in overtime to clinch the series for the Wild.
That's because the Blackhawks now have home ice advantage in the series.
The series will feature two teams that played against each other in the first round of the playoffs last season, a series that the Hawks won easily in five games. Corey Crawford was stellar in the series, only allowing seven goals in the five games, and Patrick Sharp and Marian Hossa each had two goal games in the series as the Hawks advanced with ease on their way to the Stanley Cup championship.
This season however, things could be a little bit different. Yes, the Blackhawks will be favored over the Wild when the two teams square off, but the resiliency that the Wild showed in coming back from a 2-0 series deficit, as well as four different one-goal deficits in Game 7 at the Pepsi Center, has got to be taken into account when discussing the possibilities in the series.
At any rate, the Wild have definitely been tested sternly in the first round by an Avalanche team that came into the playoffs red hot, and the Blackhawks are not going to have an easy road as they try to make it to the Western Conference Final for the second consecutive season.