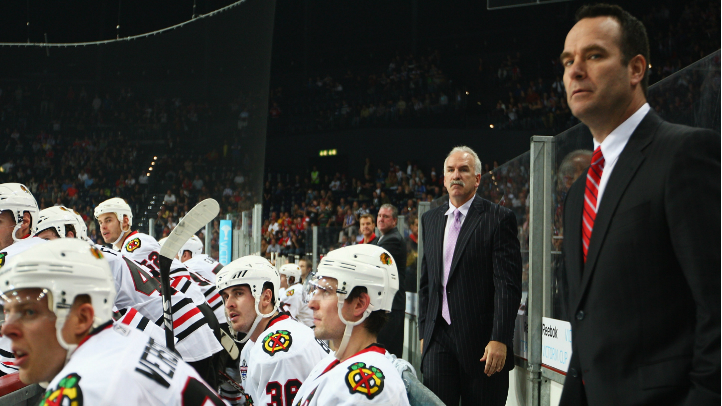 The Chicago Blackhawks will do battle with the Minnesota Wild in an outdoor game next week, and there will be a familiar face behind the Minnesota bench as the Wild named a new interim head coach on Saturday night.
That coach is John Torchetti, who was coaching Minnesota's AHL affiliate in Iowa this season. Torchetti will take over the reins on an interim basis from former head coach Mike Yeo, who was fired by the Wild on Saturday after his team lost for the 13th time in their last 14 games.
Torchetti will be looking to pull Minnesota out of the tailspin that they find themselves in, and Blackhawks fans should be well versed in what the coach is capable of doing: he served as an assistant coach on Joel Quenneville's staff as the Blackhawks won the 2010 Stanley Cup championship.
After the Blackhawks won that Stanley Cup, Torchetti went on an odyssey through the hockey world. He became a member of Craig Ramsay's staff with the Atlanta Thrashers in the summer following the Cup victory, and the next season he was named the head coach of the Houston Aeros, ironically serving as Yeo's replacement with that AHL franchise.
After that, he was a head coach with CSKA Moscow in Russia's KHL, and finally he ended up as the head coach of the Iowa Wild in 2014 after that team fired Kurt Kleinendorst.
Torchetti has been an interim coach before, taking over as the head coach of the Florida Panthers in 2004 and then doing the same thing for the Los Angeles Kings in 2006. He has a career record of 15-19-4-1 during his NHL head coaching career.
Torchetti will have a couple of opportunities to get comfortable behind the bench before Minnesota takes on Chicago at TCF Bank Stadium on Feb. 21. The Wild will play their first game under his direction on Monday night when they take on the Vancouver Canucks.