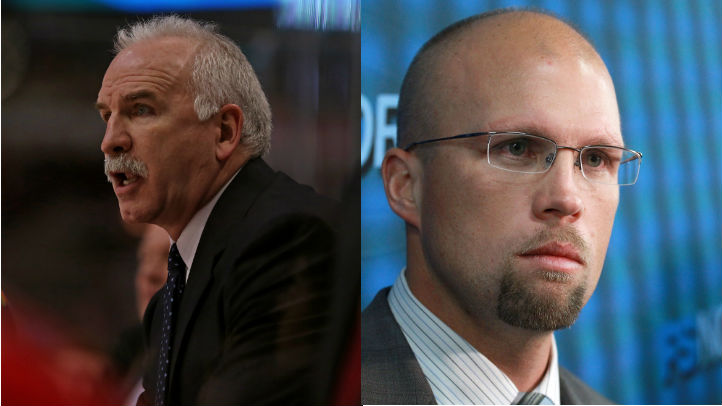 There are several fascinating matchups to watch on the ice in the upcoming series between the Chicago Blackhawks and the Minnesota Wild, including Patrick Kane and Zach Parise going head to head, but the battle behind the benches could be just as intriguing.
That's because Joel Quenneville and Mike Yeo have both put their stamps on their respective teams. Under Quenneville's direction, the Blackhawks have become arguably the top possession team in the NHL, creating tons of scoring chances while limiting their opponents to precious few opportunities. On the other side of things, Yeo has done some great work with the Wild in transforming the team from a one-dimensional defensive juggernaut to a versatile and effective club on both ends of the ice. They're scoring more goals, getting great goaltending, and they're fresh off an upset over the Colorado Avalanche in the first round of the playoffs.
Quenneville may have a lot more experience in these kind of situations than Yeo, who is only making his second career postseason appearance, but it's not hard to see why the Wild have been this successful. Yeo has fully embraced the idea of utilizing a slew of players to try to generate offense, with Jason Pominville and Mikael Granlund headlining the group playing in support of Parise and Ryan Suter. With guys like Charlie Coyle and Miikko Koivu also doing their fair share, the Wild are a much more dangerous team than they have been in the past, and anyone who underestimates their scoring punch does so at their own peril.
Despite this ability to score, Minnesota's defense and goaltending remain strengths too. Yeo hasn't let the team fully get away from their defense-oriented roots as the Wild ranked seventh in the league in goals against this season, only surrendering 2.4 goals per game. That number could be in jeopardy if they continue to have injury issues with their goaltenders (Ilya Bryzgalov is expected to start Game 1 over injured incumbent Darcy Kuemper), but the Wild have adapted well to that challenge all season long, so there's a strong chance they'll do so again.
Where the Wild fall short is on special teams. Their power play has improved on Yeo's watch, starting out 27th in the league during his first season and rising to 16th this year, but they still aren't all that effective at scoring on the man-advantage. Add to that their pitiful penalty killing percentage, 27th in the league at 78.8 percent, and the cracks in the foundation begin to appear.
On the flip side of this series, Quenneville's team has been slowly getting better on the penalty kill. They were at top form against the St. Louis Blues in the first round, with their Game 6 performance serving as a testament to their ability. They fended off six different Blues power plays in the first two periods of that game, and ultimately that success fueled a huge rally in the third period to eliminate St. Louis from the playoffs.
Quenneville also has shown that he is capable of assembling lines that are capable of driving other coaches nuts. For a brief moment during the first round, Quenneville slotted Kane with Jonathan Toews and Bryan Bickell, but the Hawks seemed to find another gear when Kane was bumped down to the second line. That line, with Ben Smith at center and Patrick Sharp at left wing, is a dangerous combination, and the Wild could have a really difficult time trying to cope with two of the top lines that they have faced this year.
What Yeo has done with the Wild is nothing short of remarkable, but the fact remains that he still trails Quenneville in this battle of coaching wits. Yes Quenneville has the better personnel, but like Phil Jackson always did with the Chicago Bulls and Los Angeles Lakers, he knows how to properly deploy them for maximum success, and even though he has moments where his decisions confound fans and media members (his insistence on keeping Brandon Bollig in the lineup is a head-scratcher), his techniques and strategies hit the mark more often than not.