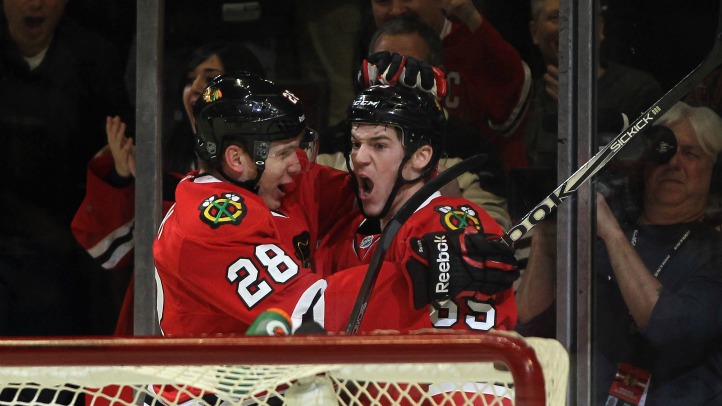 Whereas Tuesday's game against Columbus was just about grabbing two points after a mini-slide, Thursday's game against Minnesota was about slightly more.

While the points were the priority, looking a little cleaner and sleeker was a necessity. They accomplished this against an opponent that was clearly in free-fall. While the Wild scored first, they didn't engage much, they didn't threaten much and they didn't seem interested in doing much about it.
The Hawks got a real nice spark in the 1st period from a makeshift line of Andrew Brunette, Michael Frolik and Andrew Shaw. These three guys were buzzing, pestering the Wild into defensive turnover after defensive turnover. This led to Brunette getting to make plays from behind the net, where he does his best work. It created chance after chance, and it's no surprise that the first Hawks goal came from them, via an Andrew Shaw flutter that eluded Josh Harding.
In fact, the whole bottom of the roster carried the mail tonight. The third pairing of Steve Montador and Sean O'Donnell was the best one of the night. O.D. was assured in his own zone, and Montador wasn't afraid to push the play to the other end. When they have this ying and yang on song, they can be quite effective.
Oh, and the power play came to visit, which is nice because we've been holding their plate for a while. It came from the second unit, which isn't a shock because that half of it is happy to keep things simple. Finally, Dave Bolland was returned to the goal line and below, where he actually is quite the weapon. Steve Montador found himself on a point, and when his howitzer of a shot was deflected it became Dave Bolland's first goal, and the second on the power play. The first came from Bolland behind the net and Jimmy Hayes freeing himself in front. Much better than the complicated absurdist theater that the first unit is trying to create.
Still some warts. Ray Emery's rebound control wasn't very good and resulted in both of Minnesota's goals. Nick Leddy still got overpowered. This was the first night that Patrick Kane looked to be pressing, trying to make things happen that weren't there and looking to the refs more often than normal.
The play will have to get better at the weekend, but at least it's headed in the right direction.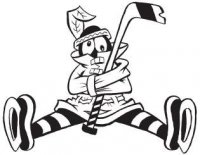 Sam Fels is the proprietor of The Committed Indian, an unofficial program for the Blackhawks. You may have seen him hocking the magazine outside the United Center at Gate 3. The program is also available for purchase online. Fels is a lifelong 'Hawks fan and he also writes for Second City Hockey .