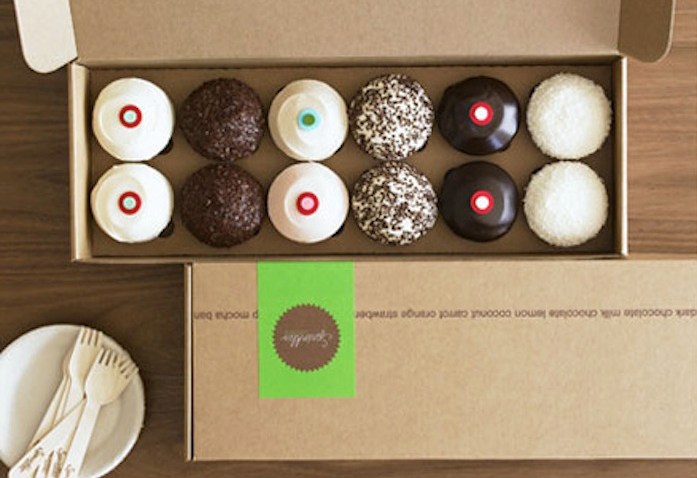 Chicago might still be weird about food trucks, but that isn't stopping us from cooking up more inventive ways of distributing food to customers who want it.

Sprinkles Cupcakes is leading the charge on a more curious front of this revolution with its recently installed cupcake ATM (which is also on Twitter!). It debuted at the River North bakery in August after initially being introduced in the flagship Beverly Hills location, which launched after Founder Candace Nelson began getting late-night sugar cravings while pregnant with her second son: "Even as Sprinkles' founder, I couldn't get my cupcake fix. I thought 'there has to be a way,' and so the concept of the Sprinkles cupcake ATM was born."
Of course, you don't have to be pregnant to enjoy the ATM.
The ATM has been a huge success, which bodes well for how it will fare after being around for just a month. When I stopped by to interview General Manager Maura Weber, there was a line half as long for the new machine as there was to enter the bakery. To clarify: The ATM is meant for folks who want to buy a single cupcake and dart out. The store is now intended for folks who want to buy a half-dozen or a full dozen or a bakers' dozen or -- you get the idea.
I resisted my sweet tooth long enough to interview Weber about the new machine, how it works and how it will differentiate itself in Chicago compared to Beverly Hills. (My suggestion? It should dispense hot cocoa in the winter.)
David Wolinsky is a freelance writer and a lifelong Chicagoan. In addition to currently serving as an interviewer-writer for Adult Swim, he's also a comedy-writing instructor for Second City. He was the Chicago city editor for The Onion A.V. Club where he provided in-depth daily coverage of this city's bustling arts/entertainment scene for half a decade. When not playing video games for work he's thinking of dashing out to Chicago Diner, Pizano's, or Yummy Yummy. His first career aspirations were to be a game-show host.