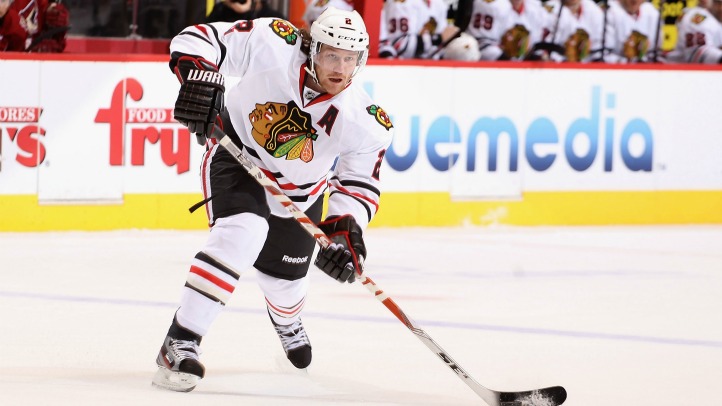 UPDATE: Keith suspended five games...

While it's never a good idea to dabble in speculation, Hawks fans should prepare to be without their most important defenseman for a game or two. It would be a major, major upset if he doesn't sit for at least one game after his conduct against the Canucks Wednesday night.
There are too many things going against him here. There's the hit on him from Daniel Sedin -- which should draw a fine itself -- earlier in the game. That makes Keith's elbow to that man's jaw look retalitory and premeditated, two things that the NHL does not look favorably on.
Worse yet, it's not a hockey play. It's not in the course of battling for a puck. A lot of borderline or over the line hits, say the boarding calls that happen more often than any other suspendable hits, at least start in a chase and battle for the puck. While the method is illegal and punishable, at least the motive was in the right place.
This was not. The puck was nowhere near the two players, it was not a in the form of a hit gone wrong. I It was a direct elbow to the head. It was an attempt to injure. It was a blow to the head, which the NHL is rightly touchy about these days. Because of its maliciousness and recklessness, it has to be a suspendable offense.
Keith's case will have a precedent set just on Tuesday. Phoenix's Shane Doan pulled the almost same exact act as Keith. Dallas's Jamie Benn was spinnig out of his corner, was sliding by Doan who was skating the opposite direction, and Doan stuck out his elbow to get Benn in the jaw. Doan was suspended three games last night.
Keith's case will rely on the fact that this will be Keith's first offense to fall in front of the Czar of discipline Brendan Shanahan. Doan has been supseneded and fined twice before this latest incidient. That weighs in the decision. Second, Keith could argue that Sedin was spinning away from him, and it was just a reaction to keep Sedin from getting away clean. That may be the argument, though we all know that's almost certainly not the truth.
Working against Keith is that Sedin is missing the Canucks' game tonight with an injury, and the victim's injuries in these things also does weigh in the decision. Because of all this, expect no less than one game but no more than two.
I understand how passionate Hawks-Canucks games like this, but Keith as the team's leading blue-liner and an alternate captain simply has to be smarter than this. The team, already without Jonathan Toews, can not afford to lose him for even one game. He's too vital, and he could have easily been ejected from last night's game. Then where would the Hawks have been?
Asking the Hawks to survive a game against the Preds without their captain, their best forward, their best d-man and alternate captain seems like a bridge too far.