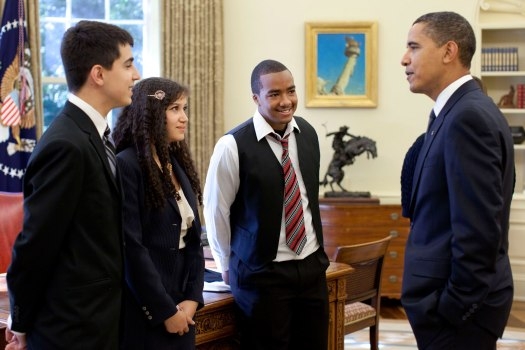 Keeping in line with our objective, we've highlighted another influential speaker to consider at the upcoming Chicago Ideas Week.
Accolades:
Zoe Damacela, 19, is perhaps one of the youngest speakers at Chicago Ideas Week. She learned the fundamentals of business, and participated in various business plan competitions during her years at
Whitney Young High School
, and it led to running her own clothing line, Zoe Damacela Apparel.
Why you should care:
Damacela will make you feel lazy. The daughter of a single parent, she started sewing her own clothing at 14, opened her own business and is now attending Northwestern University. She's been featured on Oprah's Angel Network,
The Tyra Banks Show
, and recently won Seventeen Magazine's "Pretty Amazing Teen" contest. Damacela also visited the White House and met President Obama.
As she began her first year at
Whitney Young
, Damacela launched her apparel line with profits from previous business ventures (a greeting card line, started at age 8). During her junior year, she enrolled in the NFTE entrepreneurship course at Whitney Young High School, which changed her outlook on business, she says. Zoe Damacela Apparel was awarded top honors at the NFTE Chicago Citywide Business Plan Competition, and then went on to place second in the NFTE National Youth Entrepreneurship Challenge.
Damacela's mother gave her a little tough-love advice early on: if she wanted something, she'd have to find a way to pay for it. Now, she runs her clothing line out of a Pilsen apartment, and expects sales to grow by more than 200 percent this year.
Check out her super-cute, high-quality, Akira-meets-Forever 21 clothing line
here
.
When you can see her: She's part of "Ideas Worth Spreading" - October 15th, 2011, Oriental Theatre, 10:00 AM – 4:00 PM