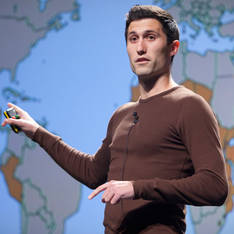 There's a lot to wrap your mind around with the approaching Chicago Ideas Week, the weeklong invasion of super-smart and super-influential folks taking place at venues all over town from Oct. 8 to 14.
We're helping with a series of speaker profiles designed to highlight those who will benefit you, the Chicago entrepreneur. There are just over 100-plus speakers announced so far, and more to come.
In this profile: Josh Nesbit.
Accolades: Josh was recently named one of the world's top 30 social entrepreneurs by Forbes, and his startup Medic Mobile has "boosted immunization rates by more than 20 percent… and impacted the care of over 600,000 patients."
Why you should care: His company, Medic Mobile, is a nonprofit company that "builds mobile applications for community health volunteers and patients, with projects in 16 countries." And it all started with a piece of free software. He and his co-founders weren't software devs or even doctors, they were just some people who "realized we could use technology to improve health care." The company has global aims and they were just some people who wanted to, as Michael Jackson used to say, "make that change." Which is pretty encouraging.
Josh Nesbit, CEO. Inspired by volunteer village health workers in rural Malawi, Josh is firmly committed to serving a global community. As an international health and bioethics student at Stanford, Josh's qualitative research focused on Pediatric HIV. He is an Echoing Green Fellow, PopTech Fellow, Rainer Arnhold Fellow, Strauss Scholar, and Haas Public Service Fellow. Josh's role is to connect people, spearhead partnerships, and let the world know what Medic is all about.
When you can see him: Oct. 8, 12 p.m. - 1:30 p.m., Owen Theatre at Goodman Theatre.
Read more here.