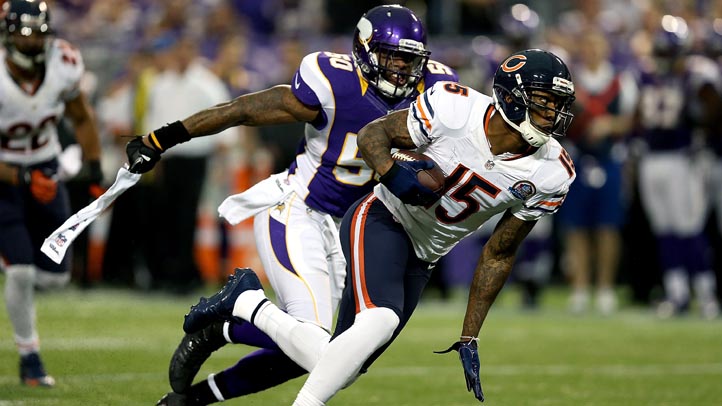 Perhaps you didn't watch the entire Bears game. No one blames you for this. Not only was it bad for the Bears, but it was just bad football. Still there were some bright spots, and some really, really dark spots.
Grizzly Bears -- the players who trampled Minnesota like three-day-old snow:
Brandon Marshall -- Admit it. Your jaw dropped on some of the catches he made. Double-coverage? Triple-coverage? He was still able to get it done. He broke the Bears' single-season record for receptions. The last two games? He's had 325 yards and is just 69 yards away from breaking the Bears' single-season record for yardage.
Major Wright -- It was a pretty bad game for the Bears' secondary. Injuries decimated them, and they somehow didn't feast on Christian Ponder, pretty much the worst starting quarterback in the league. Wright was the one person who disrupted Ponder more than he disrupted himself. Wright had five tackles, a broken up pass and an interception.
Teddy Bears -- the players who were stuck in the snow:
Devin Hester -- He is a hybrid receiver and kick returner and is failing at both jobs. He dropped a key pass that would have been a touchdown. He had just 58 yards on five return chances. He made mistakes that cost the Bears the game.
Mike Tice -- The Vikings have a good pass rush. Matt Forte was averaging 6.5 yards per carry. So why was Forte given just 13 carries? Why did the Bears only carry the ball 18 times to 53 passing attempts? An unbalanced offense has never worked well for the Bears, yet Tice called a game that was little more than "pass it to Brandon."
Kellen Davis -- He was targeted eight times. He made three catches. There is not much of a point of having a big tight end to make crucial catches in the red zone if he can't make the catches.
Copyright FREEL - NBC Local Media