While a lot of us feel the pressure to come up with some hidden reason that only we can see to explain the Hawks struggles (they've lost nine in a row), and one that's solved easily, the simple fact is that the Hawks are being sunk by their goaltending.
At even-strength, the Hawks game has been just fine, and if they were getting even average goaltending, they would have three or four wins on this trip already. The special teams are another giant sucking sound, but the kill and the goaltending are linked.
So if you've come to the conclusion that neither Crawford or Emery are going to turn it around, and you're totally justified if you have, where can the Hawks go to find someone who will? Sadly, there aren't many options.
J.S. Giguere, Colorado: The most sensible option, but one that might not be available. Giggy comes with the pedigree, with two Finals runs, a Cup, and a Conn Smythe (in a losing effort) to his name. But those were years ago. He had two middling seasons in Anaheim before being shipped off to Toronto, where he had two more, and it was generally assumed he was past it. Having a renaissance in Colorado this year, but with the Avs hanging around the fringes of the playoff race, it is highly unlikely he would be moved and torpedo their hopes. Unless they fall flat on their face in the next week to 10 days.
Josh Harding, Minnesota: At least with a team that is pretty much out of it. Harding has been Niklas Backstrom's backup for years, and billed as a future starter for just as long. But with Backstrom having another year on his deal and Harding being a free agent in the summer, the time has probably come for him to move on. But Minny may want to cash in on Backstrom and rid themselves of the contract, and either way Harding is still unproven. His stats look good this year, but he has two good years and two not-so good on the resume, and all of them have been in limited duty. There is just no way to know how he'd handle being the #1.
Jonathan Bernier, LA: Same case as Harding but with even less of a resume. Bernier has been billed as a future star, but has been stuck behind Jonathan Quick for the past two years. Having a subpar season behind a water-tight Kings' defense this year, which only raises more questions. And the Kings have never entertained the thought of dumping him because Quick is on a cheap contract. Unlikely.
Evgeni Nabokov, Islanders: The name you hear most. Their GM Garth Snow just came out yesterday to say he won't be moved because they still think they're chasing a playoff spot, but that could just be posturing. Nabokov's numbers are impressive this year, as they are for most regular seasons. But Nabby has the well-earned rep of falling apart in the playoffs. He's just good enough to break your heart. Then again, the Hawks aren't looking for a playoff hero right now, but someone who can just remain figuratively upright for them to straighten out the rest of their game for the last six weeks of the season. Nabby can probably do that much. But after that? Questionable at best.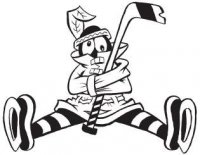 Sam Fels is the proprietor of The Committed Indian, an unofficial program for the Blackhawks. You may have seen him hocking the magazine outside the United Center at Gate 3. The program is also available for purchase online. Fels is a lifelong 'Hawks fan and he also writes for Second City Hockey .