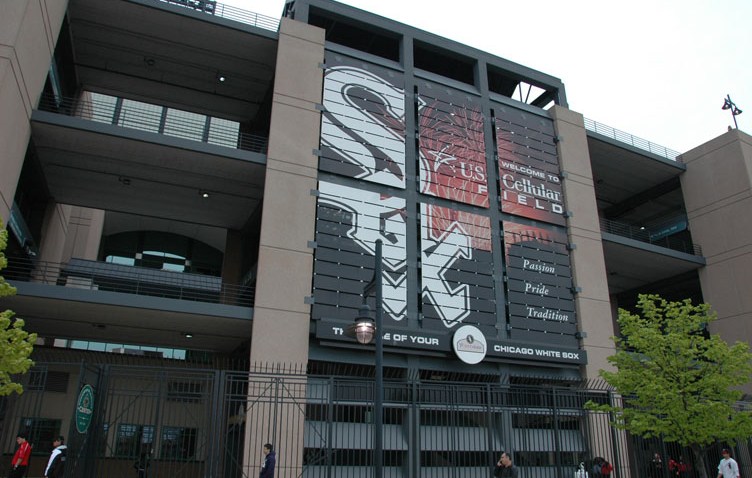 US CELLULAR FIELD
Home of the Chicago White Sox
Opened: 1991
Previous names: Comiskey Park (1991-2003)
Capacity: 40,615

DRIVING: The easiest way is to jump on the Dan Ryan to 35th Street. Exiting at 31st and Pershing tends to make it less stressful. There is a lot of signage to help you find the parking lot you need to park in.

From the Loop:
-Lake Shore Drive to 31st Street
-State Street to 31Street
-SHORT CUT: Follow Canal Street all the way to 33rd St, sneak into Lot G and Lot C the backway.

From the Southwest:
-Stevenson Expressway Inbound and exit at California (one block south to 35th), or Ashland (5 blocks south to 35th)

CTA BUS ACCESS
Primary Routes
#24 - Wentworth - Loop access on Clark
#35 - 35th Street - Connect w/CTA Orange Line

Secondary Routes
#4 - Cottage Grove
#8 - Halsted
#39 - Pershing
#44 - Wallace-Racine

CTA TRAINS
Red Line - 10 minutes from the Loop
Green Line - Faster, 3 Blocks East

METRA TRAINS
Rock Island Line (35th St Station)
1:10 Start - Joliet Departure: 11:10 AM; Arrival: 12:24 PM
One extra train runs before and after each game. It typically arrives 45 minutes before the first pitch and departs no later than 30 minutes after the last out.
$7 Weekend Pass - unlimited travel with 3 children free (11 and under)

PACE US CELLULAR FIELD EXPRESS
Free Parking, $4 Ride Each Way
Six locations: Markham, Tinley Park, Palos Heights, Oak Lawn, Bolingbrook, Burr Ridge

PARKING
Lots open two hours before first pitch
$25 Weekdays
$23 Weekends
Park-N-Ride - Lot A (open at 5am Weekdays) - Drop the car off in the morning, ride the train to work, and comeback for the game later on.
NO STREET PARKING

TAILGATING RULES
*Lots open 2 hours before first pitch
*Small grills only
*No kegs
*Bring 1 gallon of water
*Clean up!