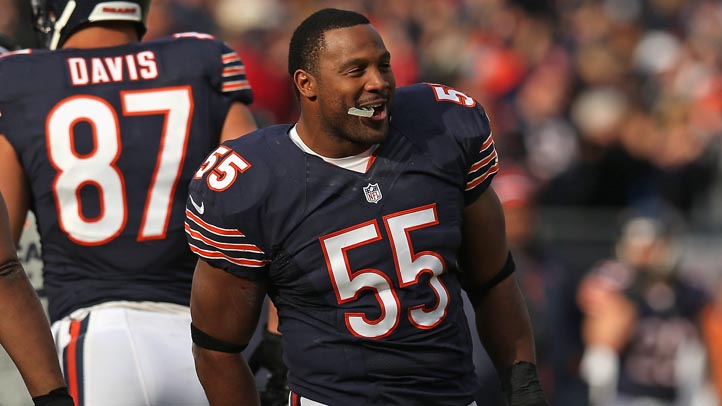 When Mike Ditka's number is retired, the Bears will have 14 numbers on the wall. With such a rich history, the Bears have more retired numbers than any team in the NFL, and they won't be retiring any more.
No. 34 is unquestionably the best in Bears history. The other players with retired numbers are deserving of the honor, but the record book is crowded with Bears who have done well whose numbers are still active. Of the numbers still available, which has performed the best?
No. 5 -- 9: Nine has sentimental as well as football value. Jim McMahon wore it. Though he didn't spend many years in Chicago, he did lead the Bears to their only Super Bowl victory. It was also worn by Billy Wade, who quarterbacked the Bears to a 1963 championship, and current kicker Robbie Gould, who is ranked fifth among active NFL kickers in career accuracy.
No. 4 -- 23: It's already been retired by the Bulls and the Cubs, but how has no. 23 performed in a Bears uniform? As of late, pretty well. Shaun Gayle wore it to the Super Bowl. Jerry Azumah picked off 10 passes for 206 yards wearing it, and Devin Hester broke return records.
No. 3 -- 87: Erase the memory of Kellen Davis from your head. Now think of these players: Harlon Hill. Ed O'Bradovich. Tom Waddle. Emery Moorehead. They each made huge contributions to the Bears' legacy.
No. 2 -- 99: Dan Hampton wore the biggest number a player could wear for all of his Hall of Fame career. Jim Flanigan wore it as he picked up 40.5 sacks. (He started with 68 and then changed during his second year.) Tank Johnson had it during a short but memorable career in Chicago.
No. 1 -- 55: It's amazing this number is in heavy rotation. Doug Buffone wore it through 15 years with the Bears. Otis Wilson wore it to the Super Bowl and Pro Bowl. Now, it's worn by Lance Briggs, one of the most durable and important Bears of the past decade.
Copyright FREEL - NBC Local Media