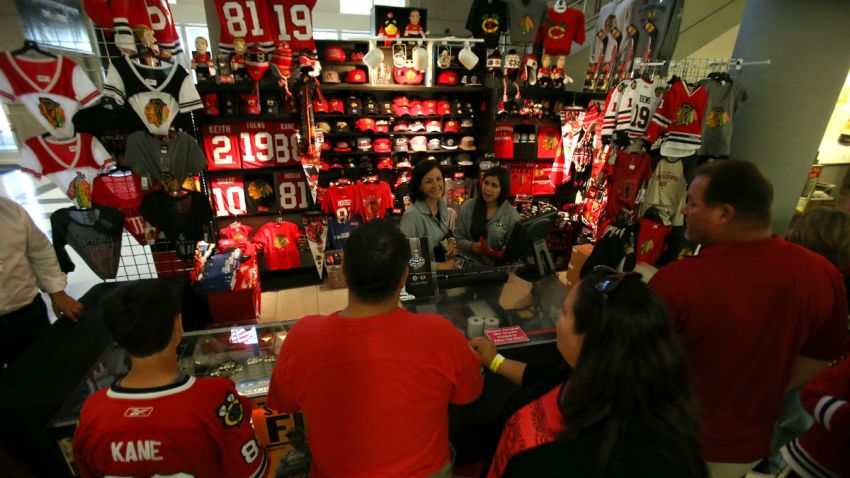 The Stanley Cup is back in Chicago, and with the championship come stacks of t-shirts, caps, sweatshirts and other new Blackhawks merchandise.
Anticipating a Chicago win, several local stores were already stocked with championship gear and opened their doors to fans as soon as the final buzzer went off.
Below, find some of the local sporting goods and retail stores whose shelves have all the Hawks gear you could want.
Blackhawks Store: Find all your official Hawks championship gear at the Blackhawks store locations in Chicago. You can purchase hats, t-shirts, hockey sticks, pennants, key chains and more.
The Blackhawks retail truck also makes the rounds in the city, stopping where fans gather to sell merchandise.
There are three official Blackhawks stores in the Chicago area:
333 N. Michigan Ave.
835 N. Michigan Ave., 3rd Floor
703 Oakbrook Center in Oak Brook
Sports World: The Wrigleyville sports apparel store is selling t-shirts, caps, jerseys and other souvenirs from the championship game. Sports World is located at 3555 N. Clark St.
Clark Street Sports: The Chicago sports store is selling t-shirts and caps for the championship win. Additionally, the store sells general Blackhawks merchandise, including black and red leggings and tank tops with the tomahawk logo.
Clark Street Sports has four locations:
38 E. Grand
948 W. Addison
2378 Fox Valley Center Drive in Aurora
525 Oakbrook Center in Oakbrook
Chicago Sports and Novelty: Buy Hawks championship t-shirts, hats and polo shirts at the local sports apparel store.
Chicago Sports and Novelty has four locations:
332 N. Michigan Ave.
The Sports Store at Navy Pier
174 N. Michigan Ave.
McCormick Place Convention Center
500 Level: This store is online only and does not yet have championship gear, but it does sell unique fan-designed apparel. If you're looking for something different, check out their website.
Kohl's: The department store is already selling its Hawks championship gear in stores and online, too, including t-shirts and sweatshirts.
Dick's Sporting Goods: The popular sporting goods store stocked its shelves with Blackhawks championship t-shirts, sweatshirts, polo shirts, jackets, shorts, belts, pillows and more.
The following Dick's Sporting Goods locations reside in the Chicago area:
The Maxwell, 1100 S. Canal Street, Chicago
Westfield Shoppingtown Southlake, 2225 Southlake Mall, Merillville, Ind.
Town & Country Shopping Center, 401 E. Palatine Road, Arlington Heights, Ill.
Bloomingdale Court, 328 West Army Trail Road, Bloomingdale, Ill.
McHenry Square, 3436 Shoppers Drive, McHenry, Ill.
Town Center Promenade, 21830 West Long Grove Road, Deer Park, Ill.
Prairie Market, 2470 US Hwy 34, Oswego, Ill.
Tinley Park Town Center, 7370 West 191st St., Tinley Park, Ill.
Streets of Woodfield, 601 N. Martingale, Schaumburg, Ill.
Fountain Square, 810 E. Butterfield Road, Lombard, Ill.
Village Crossing, 5601 Touhy Ave., Niles, Ill.
Geneva Commons, 618 Commons Drive, Geneva, Ill.
Orland Park Place, 1 Orland Park Place, Orland Park, Ill.
The Glen, 1900 Tower Drive, Glenview, Ill.
Algonquin, 1816 Randall Road, Algonquin, Ill.
Springbrook Prairie Pavillion, 2763 W. 75th St., Naperville, Ill.
Fashion Square, 700 N. Milwaukee Ave., Vernon Hills, Ill.
Bradley Commons, 2054 N. State Route 50, Bourbonnais, Ill.
Kendale Marketplace, 825 Erica Lane, Yorkeville, Ill.
Highland Grove, 10251 Indianapolis Blvd., Highland, Ind.
Sports Authority: The sporting retail store offers several Blackhawks championship items, including t-shirts, caps and polo shirts. They also offer general Blackhawks jerseys, pillows, mugs, golf balls, furniture and more.
Below, find Sports Authority locations in the Chicago area:
9633 S. Cicero Ave., Oak Lawn, Ill.
7720 S. Cicero Ave., Burbank, Ill.
3134 N. Clark St.
1801 W. Fullerton Ave.
620 N. LaSalle St.
6420 W. Fullerton Ave.
4250 N. Harlem Ave.
1800 Harlem Ave.
7233 W. Dempster St.
3232 Lake Ave.