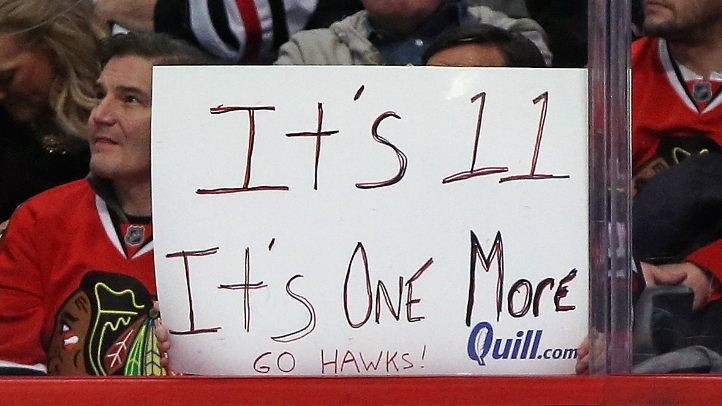 Going into Tuesday's game against the Nashville Predators, the Chicago Blackhawks are riding the wave of an 11-game winning streak, and one more victory will lead them into uncharted territory.
Currently, the team's winning streak is tied for the longest in franchise history, equalling the mark set during the 2012-13 season. With a win, the Blackhawks' streak would move to a dozen games, and they would get one step closer to potentially setting an NHL record.
With that in mind, we had a question to ponder: how does Chicago's current streak stack up against the best marks of other teams in town? To answer that, we have a run down of how the other four major sports teams in the city have fared when their momentum was at its peak.
Chicago Bears - 18 games
The Bears have only won one Super Bowl in their history, but before the NFL/AFL merger, the team had some dominant seasons in NFL play. That is reflected in their longest ever winning streak, which came when they won 18 straight games on two separate occasions. They accomplished it between the 1933 and 1934 seasons, and then did it again a few years later when they won 18 straight in the 1941 and 1942 seasons.
The longest winning streak ever in the NFL belongs to the New England Patriots, who won 21 straight regular and postseason games between the 2003 and 2004 seasons.
Chicago Bulls - 18 games
The 1995-96 Bulls remain arguably the greatest team in the history of the sport, winning 72 games and romping to their fourth NBA championship in six seasons. As part of that historic campaign, the team won 18 games in a row before falling by six points to the Denver Nuggets on Feb. 4, 1996.
The longest NBA winning streak ever belongs to the Los Angeles Lakers, who won a remarkable 33 consecutive games during the 1971-72 season.
Chicago Cubs - 21 games
The Cubs don't own a lot of MLB records that don't involve some kind of mediocrity, but this is one that they can be proud of. During the 1935 season, the Cubs won an MLB record 21 straight games, nearly going the entire month of September without a defeat as they made it to the World Series that year.
There is one undefeated streak that was longer than the Cubs', as the 1916 New York Giants went 26 straight games without a loss, but that run did include a tie.
Chicago White Sox - 14 games
The White Sox did have a 19 game unbeaten streak during their run to the 1906 World Series championship, but their longest winning streak came during the 1951 campaign. During that run, which took place in May of that year, the White Sox outscored their opponents by 41 runs and put themselves into playoff contention, although they would ultimately fall short.