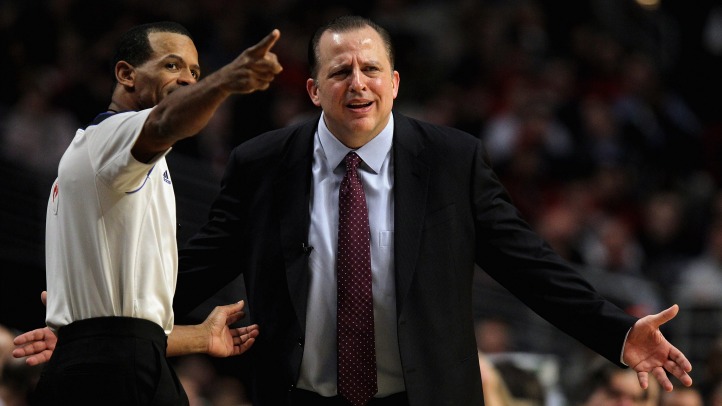 Starting the season five-up and five-down is cause for concern with the Chicago Bulls. The roster assembled this summer is taking time to adjust and jell, the results of which can be seen nightly on the floor.
On a team that has so many obvious issues, it's tough to decipher which issue is actually the biggest. Is the problem on offense? Defense? Is it with the second unit? It really depends on whom you talk to or what you read.
I'm of the opinion that the biggest problem right now is on offense, but there are those who feel the problem lies on the other side of the ball, evidenced in the team giving up 100 points or more in their last four games, the first time ever in the Tom Thibodeau era.
But it's not like there's no prior precedent.
Early in Thibodeau's first season in Chicago, the Bulls gave up 100 points or more in three consecutive games, losing two of them. Ironically enough, it was under similar circumstances. The coach had a brand new team, was trying to instill his defensive philosophies and was without a key starter to begin the season.
That same year, the team gave up 100 points in back-to-back outings, twice. The common thread in all of this between Thibs' first season and his third? Whenever the Bulls gave up 100 points to an opponent, they usually lost.
But things got better during the 2010-11 season and the Bulls went on to finish with the best record in the NBA that year. Of course, the chances of that happening this season are remote, but as Bulls fans, we've been here before. The defense will take care of itself, as will the struggles on the second unit.
The problem remains in their offensive lapses and their inability to score points for long stretches. Defense is all about effort and it may not look that way now, but Thibs will have these guys playing with maximum effort on that side of the ball. He's done it before.
How he plans on fixing things on the offensive side of the ball is anyone's guess. Missing a player the caliber of Derrick Rose hurts and for now he seems content to just ride Luol Deng and Joakim Noah for as long as he can during games. That poses an altogether different problem in itself.