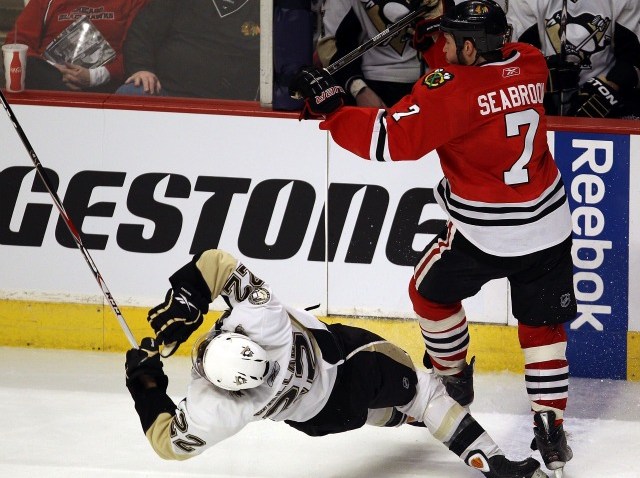 I'm past the point where I can celebrate two points no matter how they come. Now I'm looking for signs that the Hawks might actually turn things around.
But I suppose this is where my father would tell me "mighty oaks from tiny acorns grow." But this is the tiniest of acorns. And I hate it when I'm told about tiny acorns.
What's most dispiriting is the Hawks faced a Pens team that was missing almost all of its ammo. The big weaponry of Evgeni Malkin and Sidney Crosby were not here. The backup piece of Chris Kunitz also was not around, and a host of others.
But I will say that the Pens' defense was at full strength and so was goalie Marc-Andre Fleury. The Pens can shut you down.
What's worrying is the Hawks once again refused to play the most basic game after the first period. Instead of chipping the puck behind the Pittsburgh defense and using their considerable speed, they thought it better to weave pretty pictures at the blue line and end up looking like a 5-year-old's portrait of teacher.
It's hard to generate energy when you can't keep the puck in deep. More disappointing was the tying goal, when Paul Martin was allowed to watch the wheel in the sky keep on turnin' at the Hawks blue line while three Hawks skated by him as if he were a scenic overlook instead of knocking him off the puck. Needless to say this turned into the terrible rebound that Brett Sterling gleefully slammed home.
But whatever, right? The Hawks have a chance to double up the points tomorrow in Missouri. Maybe there will be hope then. But I doubt it, Charles Barkley.
Other thoughts:
The lines actually were interesting as the Hawks clearly set out to roll all four. But the fourth line of Tomas Kopecky, Ryan Johnson and Viktor Stalberg barely cracked six minutes. Still, they spread out their scoring with Michael Frolik on the third line, and he had his best game as a Hawks with nothing to show for it except getting totally robbed by Fleury in OT.
-The defensive pairs are still anarchy.
-The Hawks once again were great at the dot. Hope this continues.
-Welcome to another Patrick Sharp Binge, it'll get funky here.
-It's a new day tomorrow, in a place where the Hawks get continually hit and tend to throw it in. We'll see how much desire they actually have when the Blues are running them through every board, as they always do.