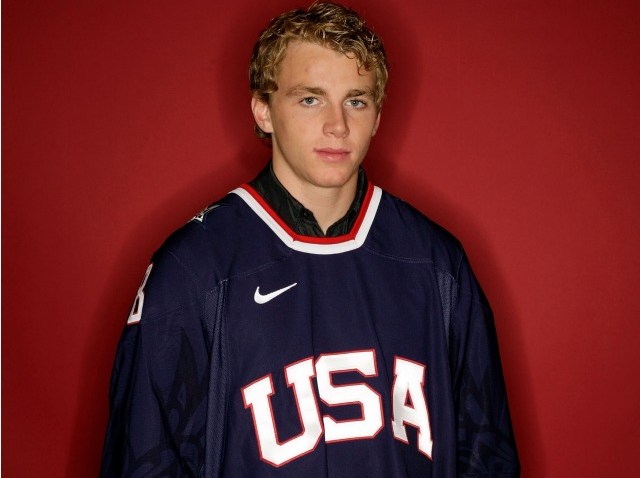 I've been an unabashed critic of The Blackhawks Convention. Well, critic isn't the right word. I know why it exists and understand, I just don't want anything to do with it. The long lines, the crowds, the unclear benefits. I can do without it. I know some people just have to be close to these guys, to jock sniff. I don't, and if I did it would impinge on my job. But what are you really getting at The Convention?
Friday
5-6pm: Official opening and introductions
Spend a good hour watching players in a balcony far away from you, as they are terrified of you, coming in and waving and then nervously checking their watches to see when they can hit the bar. Get particularly frustrated with the amount of time it takes Bobby Hull to waddle out there.
Saturday
Life On The Road:
Patrick Sharp, Bryan Bickell, Duncan Keith, and Brent Seabrook laugh nervously about all the innuendo in the questions they are asked about what it's like to be on the road. Sharp and Keith keep glancing over at their wives. You'll hear a bunch of stories you are not interested in, and one good one about a Sharp prank.
Between The Pipes:
Watch Corey Crawford wait patiently while Tony Esposito and Glenn Hall try and figure out where they are.
Chicago's Most Wanted:
Jonathan Toews, Patrick Sharp, and Viktor Stalberg talk about being known in the city at night. Stalberg shocked to find out he's a household name, Sharp keeps looking nervously over to his wife, and Jonathan Toews sits there smugly, knowing we all want to be him.
Ask Hockey Operations:
The Blackhawks hockey operations talk about building a team, and Stan Bowman shows off his newly acquired pimp hand with a Chris Campoli sized dent in it.
Sunday
Meet The New Blackhawks:
Watch as Steve Montador, Sean O'Donnell, Jamal Mayers are shocked to see what kind of people show up in the middle of July for this thing, and Rostislav Olesz and Brett MacLean are just flattered to be considered Hawks.
Meet The Coaches:
And spend a good hour simply watching Quenneville scamble his lines.
Ending:
Wonder just what the hell you blew that cash on.