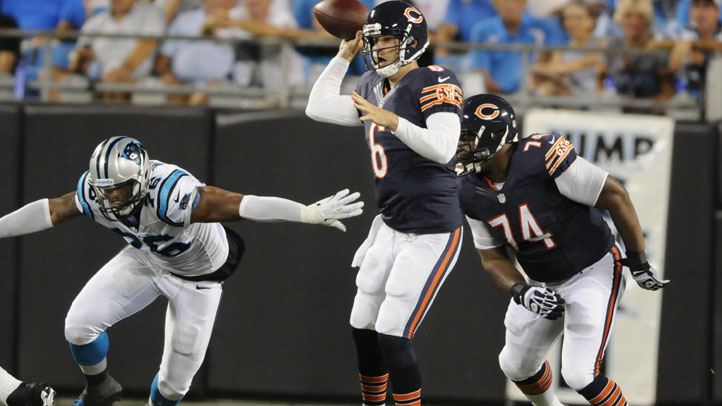 The Bears open the pre-season at home on Thursday night against the San Diego Chargers. What do you need to know before you tune in?
Brandon Marshall is back, so will the other receivers see the ball? Last season, Brandon Marshall saw the majority of Jay Cutler's passes. He missed the last pre-season game but is expected to play against the Chargers. When the first team is out, will Cutler return to his Marshall-hoarding ways, or will Trestman's plan include more sharing?
Cutler's test: As the quarterback grows under Trestman, he has to show progress. That means getting rid of the ball more quickly and following a fast-paced game plan. Will he pass his test tonight?
Youngsters on the line: J'Marcus Webb was demoted off the starting job at right tackle. Rookie Jordan Mills is expected to start there, and he will be joined by fellow rookie Kyle Long on the right side of the line. They are expected to get plenty of playing time so they can get in as much experience as possible.
No Manti: Let's hope you didn't buy tickets for the game with hopes of seeing Notre Dame product Manti Te'o. He isn't expected to play because of an injury.
Don't bring your bag: If you're headed to Soldier Field for the game tonight, leave your bag at home. The new NFL rules require any bags brought into the game are clear or the size of a hand, like a wristlet. A big backpack or huge totebag won't be allowed in, so plan accordingly.
Copyright FREEL - NBC Local Media