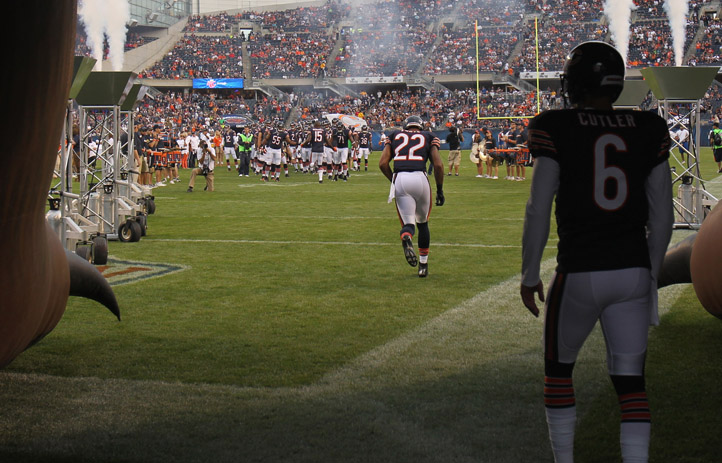 The Bears will face the defending Super Bowl champion New York Giants on Friday night. Though it's just a pre-season game, it's also a true test for how the Bears will match up with one of the league's elite. Here is what to watch for as you tune in at 7 pm.

If the Bears favor the run or the pass: With so many passing weapons, the Bears could be tempted to forget about their running attack. While completely forgetting about running is unlikely, watch to see what kind of balance the Bears will have between running and passing games.

Which third running back will distinguish himself? The Bears cut Kahlil Bell after he turned down a paycut, so now the race to back up Matt Forte and Michael Bush is down to Lorenzo Booker and Armando Allen. Tonight's game will give both men a chance to prove they are worthy of the third roster spot.

How the offensive line will handle the tough test: Even without Jason Pierre-Paul playing, the Giants defensive front is not to be trifled with. With Justin Tuck and Osi Umeniyora trying to get at Jay Cutler, the offensive lines will have their hands full. J'Marcus Webb and Chris Williams' battle for the starting role at left tackle could come down to how they handle this game.

If the rookies can continue to impress: Shea McClellin and Alshon Jeffery both turned heads during last week's pre-season game against the Redskins. The starters will likely get more playing time on Friday night. Will the rookies still make their way to

How the Bears use their safeties: With Chris Conte and Brandon Hardin injured, the Bears will start looking at how Craig Steltz and Major Wright pair up at safety. Hardin and Conte's injuries means another rookie, Brandon Walters and recent signee Mark LeGree will get a chance to show off how they fit in.




Copyright FREEL - NBC Local Media