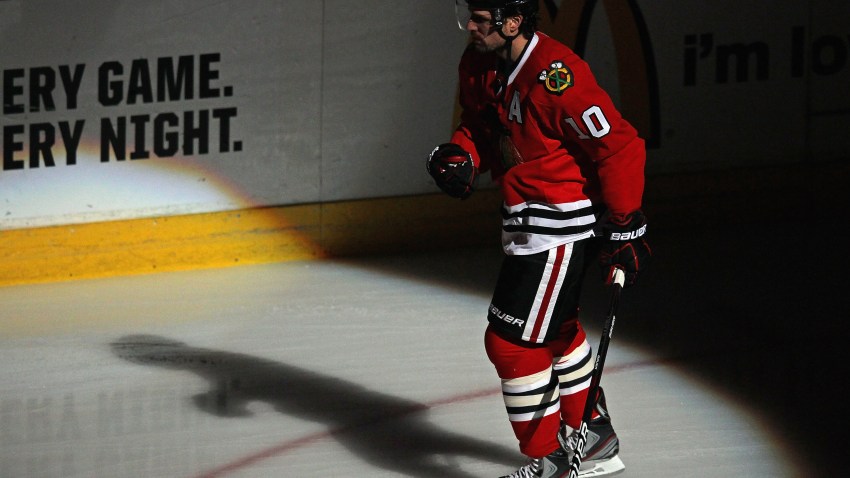 On Friday night, the Chicago Blackhawks said goodbye to a player who has been on the team for over a decade as Patrick Sharp was shipped to the Dallas Stars in a swap that brought defenseman Trevor Daley and winger Ryan Garbutt to the Windy City.
Sharp has been with the Blackhawks since being traded to the team in 2005 from the Philadelphia Flyers, and although his career got off to a shaky start as the team wallowed in mediocrity, things quickly turned around. He ended up winning three Stanley Cups with the team, scored 30 or more goals on four different occasions, and was a fan favorite as he established himself as a core member of a championship organization.
So what does this trade mean for the Blackhawks?
We have four things to keep in mind as the Hawks move forward from the deal.
Cap Savings Present in Deal
The whole motivation behind trading Sharp was to save money on the salary cap, and that's what the Blackhawks did.
They sent $6.7 million worth of salary cap hits to Dallas, with Stephen Johns accounting for $800,000 and Sharp the rest. In return, they got the $3.3 million cap hit of Daley, and they assumed half of Garbutt's $1.8 million cap hit, with both deals coming with two years remaining.
In total, the move saves the Blackhawks $2.5 million in salary cap space, and they are just a shade over the cap with 22 players (14 forwards, six defensemen, two goaltenders) on their active roster at the moment. Odds are that one of the extra forwards (Jeremy Morin or Corey Tropp would be a good bet here) would be exchanged for a seventh defenseman.
Forward, Defensive Lineups Will Look Drastically Different
Depending on whether or not the Blackhawks re-sign Marcus Kruger (it still remains likely, although they've brought in several centers that could potentially replace him if need be), the Blackhawks could have as many as three new players at the center position next season, with Jonathan Toews the only holdover.
Artem Anisimov will definitely be one of those new centers, and Marko Dano could potentially slot in at a middle spot as well. Players like Teuvo Teravainen could shift over if necessary, as could Andrew Desjardins, and Andrew Shaw could make a return to the position, although he looked excellent as a winger during the playoffs and could get a crack at the top line left wing job vacated by Brandon Saad. Speaking of those wings...
Several Young Players Will Be Competing For Sharp's Spot
Artemi Panarin will be a name to look out for, as is Kyle Baun. Viktor Tikhonov is another player to keep an eye on, and don't rule out veterans like Kris Versteeg either.
On the defensive side of things, the addition of Daley gives the Blackhawks another left-handed shot on the blue line, so they'll likely try to put him on the third defensive pairing.
That means that Trevor van Riemsdyk could get a shot to ascend to the second pairing, or David Rundblad could see some time there. Viktor Svedberg and Ville Pokka could enter the competition too, and the ultimate wild card scenario would see Johnny Oduya return. Although…..
End of the Road For Johnny Oduya?
With a $3.3 million cap hit and two years remaining on his deal, Daley seems to spell the end of the line for Oduya with the Blackhawks. The free agent defenseman has expressed a willingness to wait for Stan Bowman to clear out cap space in order to retain him, but with the difficulty Bowman is having in his attempts to trade Bryan Bickell, that may not be feasible.
If the Blackhawks could somehow retain his services, he would give them five reliable veterans to put on the blue line, and would leave van Riemsdyk and Rundblad to compete for the sixth spot on the final pairing.