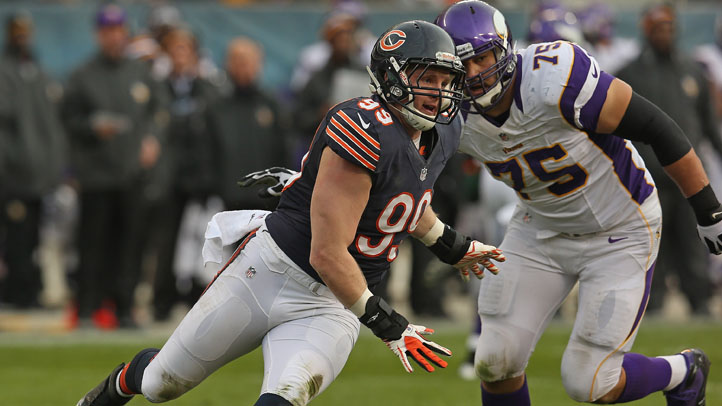 On a team that is giving up an average of nearly 30 points per game and is ranked near the bottom of the league in both rushing and pass defense, there is plenty of blame to go around, but for the Chicago Bears, there is one player in particular that has drawn the scorn of fans of the team.
That player is 2012 first round pick Shea McClellin, who has been abysmal in a slew of areas this season. His run defense is lacking at best, with teams consistently running at his side of the line knowing that he has difficulty reading those plays. He isn't much better in terms of his pass rushing abilities, often being stymied at the line of scrimmage even when he's just going up against tight ends in 1-on-1 situations.
In 21 career games played, McClellin only has 15 tackles and three sacks, and hasn't forced a fumble or deflected a pass. Meanwhile, the guy who was taken two slots after McClellin in the 2012 Draft, Chandler Jones, has 47 career tackles and 12 and a half sacks, and has forced four fumbles.
Those numbers make a pretty compelling case that McClellin just isn't cutting it at the defensive end position, and despite GM Phil Emery's insistence that McClellin is leading the team in "disruptions," his lackluster play is made even worse by the fact that the guy at the other end of the line, Julius Peppers, is struggling to get pressure on the quarterback as well.
The question then, is whether or not there is anything the Bears can do to make McClellin a more valuable asset on the field. They've experimented with various tactics, including having McClellin start from an upright position instead of having a hand on the ground, and while he has had modest success in doing that, the results haven't been that much better.
As it stands right now, there are a couple of things the Bears could consider doing with McClellin. To shield him from the inevitable beating he takes on rushing downs, the team could swap him out with David Bass on those plays. McClellin does have some good speed, so perhaps if he were to play fewer downs against the run, his pass rushing ability would be amplified a bit with the extra rest.
Another potential idea would be to have McClellin step back into a linebacker's role to compensate for the absence of both DJ Williams and Lance Briggs in that area of the field. Granted, it wouldn't be an ideal situation for McClellin, as he worked out in the offseason specifically to bulk up a bit so he could play defensive end, but with his past experiences at the linebacker position, he could very well fit in there in a pinch.
Finally, there is a long term solution that could help McClellin and possibly help out the defense as well, and that would be to adopt some 3-4 schemes into the defensive playbook to maximize McClellin's potential. It would seem that he would be a perfect candidate to play the linebacker position in a 3-4 scheme, but Bears brass has said the team will not adopt any 3-4 looks during the current season.
If McClellin is going to continue being a part of the Bears, then the team might have to consider at least adding that wrinkle to their playbook next season. Guys like Jon Bostic and Corey Wootton could be good fits for those looks (in addition to their 4-3 responsibilities). So, it isn't out of the realm of possibility that the Bears could take a page out of the playbooks of teams like the New Orleans Saints and Indianapolis Colts, both of whom use both 4-3 and 3-4 schemes in their defensive attack.
At any rate, the Bears are in a position right now health-wise that they don't really have a choice but to play McClellin at the end spot. Moving forward, they would be wise to at least try some of these other places for him on the field, but if there's anything that's clear here, it's that McClellin just isn't working out in the ways the team has been using him.