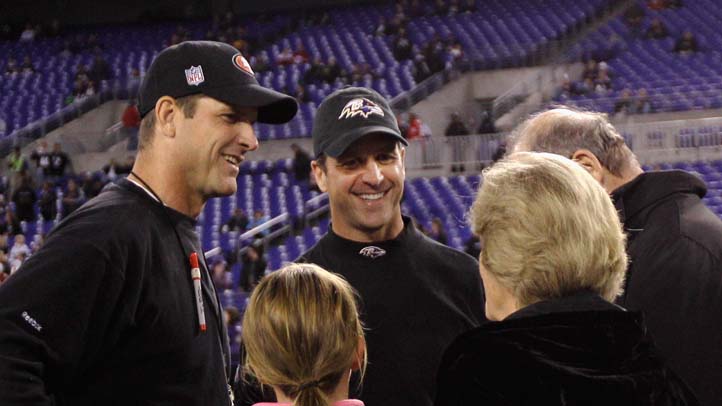 The Brothers Harbaugh will coach in the Super Bowl this weekend. They have what Marc Trestman wants -- a chance at the Super Bowl ring. While watching the game this weekend, Trestman can learn something from how these two coaches got to the pinnacle of the NFL.

Use veterans judiciously: Like the Bears, the Ravens have older stars on defense. Even if Brian Urlacher doesn't return, the Bears will still have Julius Peppers, Lance Briggs and Charles Tillman as the key players on defense. They are all over 30, and past the age where players in their positions start getting diminishing returns. John Harbaugh made smart use of Ed Reed and Ray Lewis (before his injury) in 2012.

It's OK to show some emotion and let fans get to know you: An ongoing frustration Chicago fans had with Lovie Smith was he rarely showed who he was on the sidelines and to media. Smith was always guarded, rarely showing so much as a smile. 49ers coach Jim Harbaugh wears his heart on his sleeve. He celebrates with his players, yells when he's upset with referees, and isn't constantly on-guard. You can see why San Francisco loves him and gets behind the team. Jim Harbaugh's passion is never a question.

Making the unpopular decision is good if it leads to winning: When Alex Smith was injured, Colin Kaepernick took over for the 49ers at quarterback. When Smith healed, Jim Harbaugh stuck with Kaepernick because he was winning. Kaepernick led the 49ers to the Super Bowl. John Harbaugh fired offensive coordinator Cam Cameron late in the 2012 season, and now his team is in the Super Bowl.

Trestman will have tough decisions to make in coming months. Popular veterans may have to be released or not re-signed. Trestman can't waffle on the tough decisions. He has to do what he thinks will make the Bears win now.

Copyright FREEL - NBC Local Media