What have the Hawks competition in the West done in free agency so far?
In the division, we'll start with the crown-wearers: Detroit, watched Brian Rafalski retire to become a man of the cloth or something, and welcomed back Nicklas Lidstrom for a 392nd season where he can expect to be just above average but have the entire hockey media world decree him the human emobodiment of a cure for cancer and award him another joke of a Norris Trophy.
The re-signed defenseman Jonathan Ericsson in a decision that will in time come to define "boondoggle", as well as added the dimunitive Ian White from San Jose to replace Rafalski. Up front, they've done nothing to augment the aging and ouchy forward corps that couldn't get past San Jose the past two years. No fears here.
Down in St. Louis, dodgy ownership and lack of attendance have left the Blues with about as much spare cash as that dude blocking the sidewalk with the garbage bag filled shopping cart (St. Louis smells about the same as well). They were able to keep all their young, restricted free agents in T.J. Oshie, Patrik Berglund, Matt D'Agostini, and B.J. Crombeen. But other than that they've only been able to add cagey (read: old and useless) veterans Scott Nichol, Jason Arnott, and Jamie Langenbrunner. While these three can't do on the ice what they used to, the hope in Missouri is they'll at least teach the kiddies how to make it to practice, possibly while sober. And they'll still terrify the Hawks.
Nashville is going through their own qualifying offer weirdness, known in these parts at the "Tallon Submarine". They may not have sent them out on time, which means their once-restricted free agents could be unrestricted. They had to pull of a money-saving trade that robbed them of promising d-man Cody Franson and netted them Easter Island statue Brett Lebda. They lost Joel Ward and Marcel Goc. Shea Weber remains unsigned and headed to arbitration. Until they sort out this mess, they'll be standing still if not moving backwards.
Columbus has been extremely busy, in a constantly cutting yourself kind of way. They handed James Wisniewski over $5 million a year, which is Eddie Murphy-level comedy. They acquired moody forward Jeff Carter, who they think will go great with Rick Nash but will find out different when they spend training camp not passing to each other. And Steve Mason is still in goal. How many different ways can you sink?
San Jose's been busy too, acquiring Brent Burns and Marty Havlat from the Wild for Devin Setoguchi and Dany Heatley. You know what they say, when you can't get over the hump you should always go get pieces from a team that's missed the playoffs for three straight years. Vancouver lost Christian Ehrhoff to a pile of money in Buffalo, and have Jannik Hansen in arbitration. They kept Kevin Bieksa. That's about it.
As you can see, no one in the West has taken a leap forward, or even a stumble. Still a long way to go until camps open, but it's encouraging.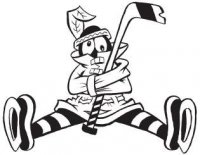 Sam Fels is the proprietor of The Committed Indian, an unofficial program for the Blackhawks. You may have seen him hocking the magazine outside the United Center at Gate 3. The program is also available for purchase online. Fels is a lifelong 'Hawks fan and he also writes for Second City Hockey .