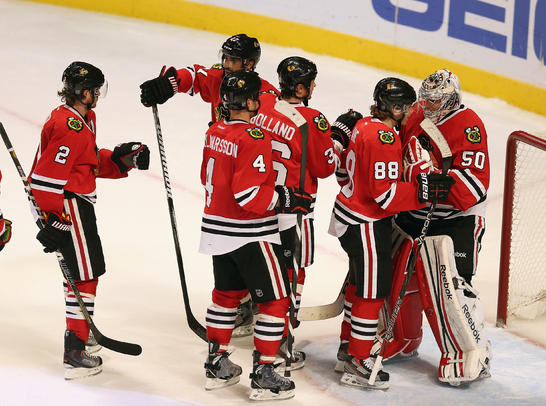 Late Wednesday night, it was widely reported that the Boston Bruins had acquired Jarome Iginla from the Calgary Flames in exchange for two prospects and a conditional first-round pick. The latter part of the trade elicited a wave of guffaws from hockey enthusiasts, but the laughter was shortlived. A little bit later, the word came out that Iginla was really headed to Pittsburgh to play with the Penguins, with two prospects and an unconditional first rounder heading back to Calgary.
How does this transaction affect the Chicago Blackhawks, you may ask. Well, if you'll recall, the Hawks were one of the few teams that Iginla reportedly expressed an interest in being traded to. Just about every Blackhawks reporter worth their salt weighed in with their reactions to that news, but at the end of the day, Pittsburgh was able to get the job done.
For the Hawks, this news could be a blessing in disguise. No, the return wasn't exactly a windfall for the Flames, but at the same time, if GM Stan Bowman had been the one pulling the trigger here, it would have robbed the Blackhawks not only of assets that they could effectively deploy when they are forced to make salary cap-conscious cuts next year, but also in a deal that could land them a better asset in return.
Madhouse Enforcer has done several pieces on potential targets for the Hawks at the trade deadline, but one name that has flown under the radar is Buffalo Sabres forward Steve Ott.
Largely known as an agitator during his days with the Dallas Stars, Ott has continued living up to that reputation in northwestern New York. He has 61 penalty minutes so far this year in only 33 games played, but he also has five goals and 12 assists to go along with that. In addition, he eats up a lot of ice time, playing 18:27 per game, and he is one of the team's key penalty killers, ranking third among the Sabres' forwards in average ice time while shorthanded.
All of that being said, there is one number that should stand out to Blackhawks fans about Ott: 56.9. That is the percentage of faceoffs that he wins. Only two Blackhawks have a higher success rate than that (other than Jimmy Hayes and Bryan Bickell, who have only taken a handful of draws between them), and those players are Jonathan Toews and Patrick Sharp.
Not only is Ott good in the faceoff circle, where the Hawks have struggled, but he is also relatively cheap. His salary cap hit for the 2013-14, his last before he hits the free agent market, is $2.9 million. That is a paltry sum for a guy who will get you between 45-50 points and win an excellent amount of faceoffs.
If the Blackhawks end up deciding that center is an area that they need to strengthen (and let's face facts. It is), then Ott is a guy that they should definitely consider targeting.